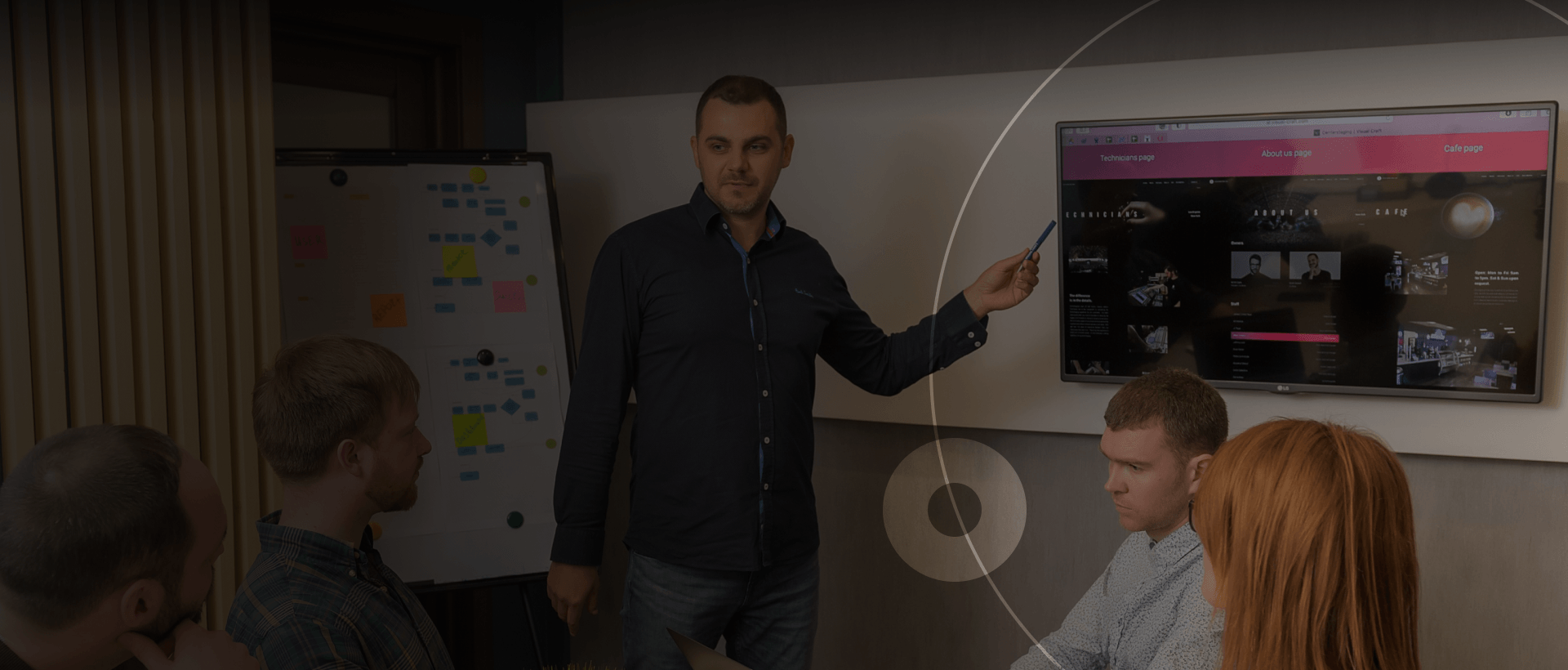 About Us
We create unique software solutions for client ideas since 2006. We provide expertise on every step of the product lifecycle, from discovery and product design to software development and support.
More than development
Our team makes it a priority to understand our clients' business and to provide a perfect solution to meet their purpose in terms of design, performance, flexibility, cost, quality standards, and ongoing support. It is a dedicated experienced team that believes a lot in its craft, has mastered it, and solves the most difficult technology challenges.

16 years of software experience
We know how to maximize business value and ensure sustainability with custom technical solutions.

Ongoing relationship
We do not leave you when the product is developed but provide ongoing support to analyze and make adjustments as necessary.
Extra mile is in our DNA
We immerse ourselves in the project, making every effort to transform the client's problems into solutions and to help the company grow.

40% senior developers
We go through regular training and engage developers with years of experience to create customized and high-tech solutions for our projects.
Check Portfolio
FAQ
Our company is a USA corporation, however, we have a distributed team located in central Europe, Georgia and USA.

Yes, 75% of our clients are from the USA, about 20% are from Europe. The rest are from other parts of the world. We can work with any client as long as we can work in English.

By trusting your project to us, you get a reliable and experienced partner, bringing you a wealth of expertise not only in a wide array of technical matters but also in product design. You get a well-organized team who has been working with great efficiency over the last 15 years and covers a wide area of subjects.

The best way is to contact us with the details of your project so we can assess the project requirements, tech stack, resources, timeframe, and format of cooperation. We would be more than happy to provide our client references on projects similar to yours.

We offer great value for the service and expertise we provide. We use two models: fixed-price or a dedicated team. The fixed price model requires fairly detailed project specifications, but you get an accurate estimate of cost and time. With a dedicated team model, you will know your monthly cost of the team and it's up to you for how long you need the team. The team size and composition can be adjusted based on your current goals.

We will always strive to provide you with at least a high-level estimate even with little information. However, our team has extensive experience in taking our clients through a project discovery phase. As a result of this phase, we provide project specifications and an accurate estimate, feature by feature.

During the discovery phase we run a series of interviews with you to learn about your project, we determine the ultimate goal of the project, all user roles, all user actions, we create flowcharts, user stories, wireframes for all key pages, architecture diagrams and even a clickable prototype. Most importantly, we help you validate your idea and come up with the best technology and the most cost-efficient way to implement your idea.

Discovery phase length and cost depend on the size of the project, for smaller projects and MVPs it takes 2-3 weeks and it costs a fraction of the expense of fixing a project that wasn't planned well.

We offer all services required to turn a great idea into a product that your clients will love. From ideation, discovery, and prototype phase, to app design, development, launch, support, and marketing consultation. This is achieved through the work of experienced BAs, PMs, developers, designers, QAs, and online marketing professionals in our team.

We offer maintenance and support contracts in the volume required for the project, so we are there to help you grow your project, keep it secure, stable, and bug-free.

Good communication is a must-have attribute of any successful project. Every project has a dedicated project manager who will become your main point of contact and organizes the team around him/her. We strive to establish regular weekly calls with the stakeholders, we hold daily internal meetings with the development team and we do a demo and progress review every 2 weeks on most projects so you always know how your project is progressing.

We have a high retention rate of our staff with a high seniority level. Additionally, we use a dedicated QA team that creates and executes test cases covering all of the functionality of the project. We also offer a wide variety of automated tests to make sure your project is stable on various phases of development and deployment.

We support all commonly used forms of payment - wire transfers, ACH, credit\debit card payments.

Use any of the contact forms on the website to get in touch with us and we will find the best way to move forward and review your project.
Our Approach
Initiation
Phase

This is a first step where we learn about your project, define the ultimate goal, and come up with ways to achieve it. During this phase, we can provide you with ideas on technology, preliminary estimates, and timelines.

Discovery and Project
Planning

Our top priority is the client's success, if our clients win, we win. We create a comprehensive, attainable strategy to facilitate the software engineering team in completing the client's vision in a timely manner.

Software
Development

To create scalable, secure, and reliable software we employ a diverse set of popular backend and frontend technologies, frameworks, and opensource products.

Ongoing
Support

We care about the challenges our clients face, and we want our solutions to bring success. That's why we provide ongoing support after product delivery to make sure your project never stops evolving.
Reviews
'We contracted Visual Craft to build a software management portal for our new flagship printer. Not only have they done a very workmanlike job in building this complex application, but almost more importantly, they critically evaluated some of our design decisions and offered counterproposals and feedback that resulted in a better product for both us to build on and our customers to use.'
Everyone at Visual Craft is a pleasure to work with. Project managers, programmers and developers are detail and customer oriented, and provide outstanding services. I highly recommend using Visual Craft for all your IT needs.
Visual Craft worked with me to complete my project for Sonant Telecommunications. I am impressed with their communication, ability to understand the task and knowledge. Andrey was excellent to deal with and easy to communicate with. A++++ First Rate - I plan on using them again and again.
Visual Craft did a great job! Excellent language skills and communication, changes and progress to the site are done quickly. They are also great with design, my new site looks great. Highly recommended!
'Visual Craft worked in a powerful and efficient way. They provided me with perfect results in a very short time. All their modifications worked perfectly and they are very proactive in adding functionalities that I didn''t think in my requirements. Visual Craft is a top-notch business partner.'
The best provider we have ever hired. Responsive, respectful, hard working, quality work, fair price, everything is great. Hope to work with them for a long time to come!
'I am so impressed by Andrey and his team at Visual-Craft. Their attention to detail in the planning stages helped me focus by overall business idea, and they''ve been nothing but patient with any changes i''ve wanted to make along the way. I can''t recommend them enough and will certainly be calling on them again to complete phase 2 of my project.'
My name is Fred Sabernick, Engineering Manager at Videojet Technologies. My Visual Craft team has developed a cloud-based software management and delivery system website for our latest industrial printer products. The site experience is customized based on the type of user including customers, distributors, and internal company personnel.
Visual Craft is a pleasure to work with! Their attention to detail, the speed of implementation and problem-solving abilities are impressive. Their dedication to providing support makes them trustworthy and truly valuable technical partners.
The staff at Visual Craft is versatile, nimble, creative, smart and forward thinking, which is everything we needed to develop a unique social platform and websites such as Buzzigo Social and CenterStaging. We strongly recommend them and know that you will be satisfied with their work and how easy they are to work with.
Andrey and the entire Visual Craft team are fantastic to work with. We've worked with them on numerous and sometimes complex projects over the years, and have always been very happy with the results. Excellent communication and attention to detail.
I entrusted the team with the construction of a complex eCommerce site as part of an 18-month project for Les Échos group. The team has invested heavily in understanding customer issues and took care to offer technical solutions to complex subjects. Their availability, attentiveness, and above all the reactivity made them an effective partner in the success of the project.
I have worked with the team for several years at Les Echos (French newspaper, owned by LVMH group), and it was a great experience. Our cooperation through the years has evolved in a great way, leading us to build altogether significant projects. I strongly recommend Visual Craft as a web development team. It's a reliable company with which I would readily work again.
Leadership team
Andrew Osipov
Founder
My top goal is to build a company that would be most effective in helping our clients reach their objectives.
Vitalina Yesyk
Human Resources Director
My high-priority direction is attracting top talents and unleashing their potentials to create solutions that move clients' business
forward.
Anton Bakai
Chief Technical Officer
My aim is striving for technical excellence in every product.
Start growing your business with usSend us a message
Book an online meeting
The online meeting will help you to quickly establish a plan of action and identify the resources needed to accomplish your project.
Book a meeting