Web

Development

Since 2006, we have been developing effective web solutions for corporations and startups that maximize business value.
We provide
We apply best practices to create fast, secure and stable applications that provide an exceptional user experience.

Frontend
We create responsive digital products with user-friendly interfaces. Our apps are built to provide the best user experience and usability.

Backend
We deliver products with a reliable and maintainable code conforming to the latest security standards. With a highly optimized database design, your application will always be performant and fast.

CMS/E-commerce
We use popular solutions to leverage the power of community and quickly build on the vast open source ecosystem of e-commerce and CMS.

Ongoing support
When a product is delivered, we provide ongoing hassle-free technical support and administration to ensure the stability and growth of your product for years to come.
Our Approach
Initiation
Phase

This is a first step where we learn about your project, define the ultimate goal, and come up with ways to achieve it. During this phase, we can provide you with ideas on technology, preliminary estimates, and timelines.

Discovery and Project
Planning

Our top priority is the client's success, if our clients win, we win. We create a comprehensive, attainable strategy to facilitate the software engineering team in completing the client's vision in a timely manner.

Software
Development

To create scalable, secure, and reliable software we employ a diverse set of popular backend and frontend technologies, frameworks, and opensource products.

Ongoing
Support

We care about the challenges our clients face, and we want our solutions to bring success. That's why we provide ongoing support after product delivery to make sure your project never stops evolving.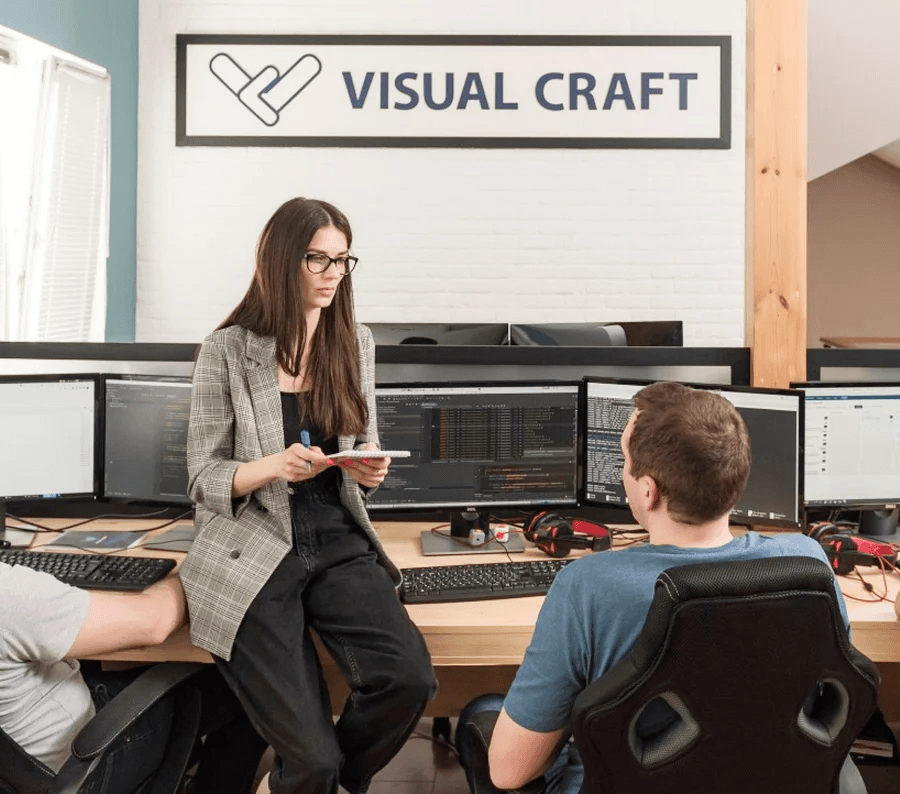 Why Visual Craft
We know how to maximize business value and ensure sustainability with custom or OpenSource technical solutions.
Technologies
Languages/technologies
JavaScript
TypeScript
PHP
Python
Go
Ruby
C#
C++
HTML5
CSS3
SASS
LESS
SCSS
REST
GraphQL
Frontend frameworks/libs
Vue.js
Vuex
React
Redux
Svelte
Gatsby
Redux-Saga
Angular
Axios
Lodash
RequireJS
JQuery
D3.js
Bootstrap
Material Design
Backend frameworks/libs
Node.js
Express
Symfony
Doctrine
Twig
EasyAdmin
Ruby on Rails
Laravel
Eloquent
Fastapi
Qt
Zend
Mongoose
Nest
TypeORM
CMS/Ecommerce
WordPress
Magento
WooCommerce
OpenCart
Gutenberg
Beaver Builder
WP Bakery
Visual Composer
Advanced Custom Fields
WPML
Strapi
Plasmic
Databases
MySQL
MongoDB
InfluxDB
Redis
SQLite
Neo4j
Tools
Yarn
npm
Webpack
Gulp
Git
SVN
WebStorm
VSCode
Puppeteer
Postman
Docker
Docker Compose
PhpStorm
PHP CS Fixer
Psalm
Qt Creator
MySQL Workbench
MailCatcher
Sphinx
ESLint
Cypress
Jest
PHPUnit
MJML
Doxygen
Grafana
Studio 3T
Adminer
axe DevTools
Flow
3rd party services
Google Maps
Google Cloud Platform
Mapbox
Cloudflare
Hubspot
Gitlab
Github
Bitbucket
GitlabCI
OpenAI Api
Stripe
Paypal REST
Ghost Inspector
Slipstream API
InVision
Figma
Confluence
Jira
Squarespace
Our clients speak
Visual Craft worked with me to complete my project for Sonant Telecommunications. I am impressed with their communication, ability to understand the task and knowledge. Andrey was excellent to deal with and easy to communicate with. A++++ First Rate - I plan on using them again and again.
My name is Fred Sabernick, Engineering Manager at Videojet Technologies. My Visual Craft team has developed a cloud-based software management and delivery system website for our latest industrial printer products. The site experience is customized based on the type of user including customers, distributors, and internal company personnel.
French daily newspaper covering international and national news, part of LVMH group
LA's premier backline facility, servicing Grammy and Academy Awards
World leader in marking equipment, a part of Danaher Corp, a Fortune 500 company
Connects, integrates, and automates your existing content with video
ATTOM Data Solutions is a market-leading provider of real estate and property data for over 155 million properties in the U.S.
Publish your legal notices in most newspapers in France
Home Junction provides real estate & property data for agents, brokers & enterprise
One of the leading French financial daily newspapers, part of LVMH group
Start growing your business with usSend us a message
Book an online meeting
The online meeting will help you to quickly establish a plan of action and identify the resources needed to accomplish your project.
Book a meeting