Dedicated

software
development teams

We provide the opportunity to build dedicated software development teams that work on your project or to expand an existing team.

A dedicated development team is one of the ways we can work together. Years of expertise have enabled us to assemble teams capable of solving the most complex challenges. Our clients range from innovative startups to corporations with tight launch deadlines. With this service, we want to help you achieve your goals more effectively.
What is a
dedicated development team
A dedicated development team is made up of developers who devote all their time to a single project. The team will allocate its full resources to your project until it's completed. All members have individual responsibilities and tasks, as well as specific roles. A dedicated software development team should fit into the organizational structure of your company.
How does a
dedicated team work
A dedicated team works together towards a common goal – meeting your needs and delivering high-quality software on time. It is a widely used outsourcing approach that enables companies with existing products or technical expertise to expand their development effort. Our developers can work as a stand-alone department or complement an existing team.
Dedicated development teams are comprised of individuals with unique talents who work together to form an effective unit. Each member has their own role, but they also share responsibility for each other's success.
Dedicated teams are usually organized in one of two ways:
Full-time:
All of the developers work together full-time for an agreed-upon amount of time (e.g., 6 months).
Mixed:
There are both full-time and temporary members who are brought on only when their skills or expertise is required. And, if the project requires a quick capacity scaling (i.e., expansion) of the team, it can do so without sacrificing quality work by drawing from its bank of the available talent pool.
Client side
You understand product design. You can form

business requirements

, and know how to translate those to a technical level.
You have developed a product implementation and

development strategy

, including roadmaps and prototypes.
There are technical specialists on the client side, or you have the

technical expertise

to identify what kind of resources will be required.
You need to add new expertise or build an

outsourced team

of developers without the hassle of doing all of the hires, setup of internal processes, and management.
Your project is on a

tight deadline

, and you want a well-oiled team that can start delivering fast.
Our side
We are committed to

assembling developers

with the appropriate knowledge and experience needed to fulfill your requirements.
Our focus is on the

coordination of the internal processes

, quality, and technical goals. You can completely delegate PM work and the day-to-day project running while you focus on the product and business.
We have a

well-developed infrastructure

and extensive experience which helps us to be the most efficient on the job.
We are not only involved in building a team of experts, but we make sure the efficiency and expertise grow through regular

training and improvement

in the processes.
We develop

technical solutions

that maximize business value, help companies remain sustainable over time, and reduce the likelihood of unexpected problems.
Book a meeting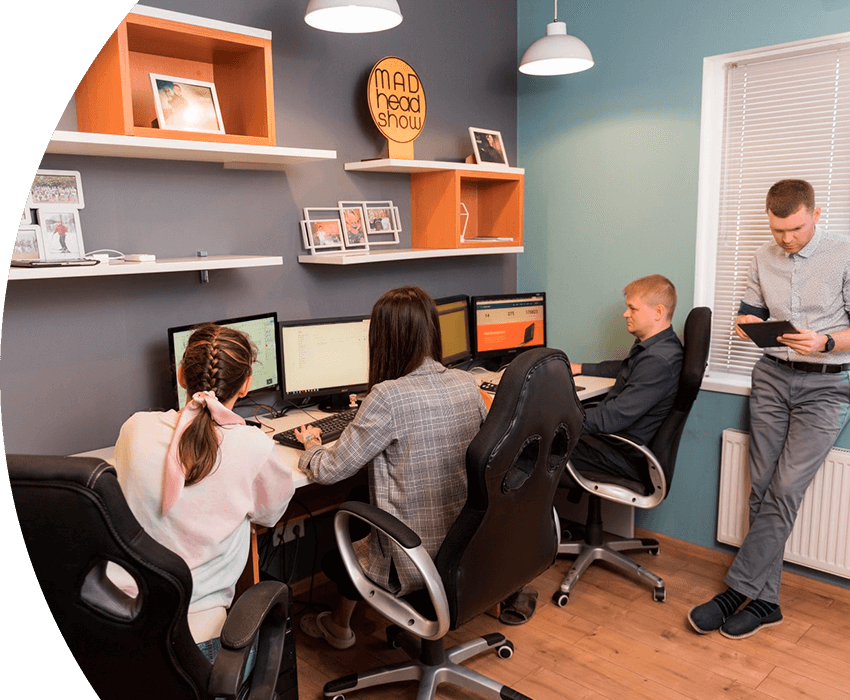 Not sure
it's for you?
6 advantages of the
dedicated software teams

model
Focus on the essentials

We will take care of assembling skilled software engineers, and this will give you more time to focus on other tasks. Your knowledge and experience will be enhanced by our resources.

Flexible solutions

Project requirements may vary, so we provide the possibility of adjusting the team composition to better fit the development phase.

Speed to the market

It takes time to build a great team, a lengthy hiring process, acquire expertise, and fine-tune all internal communications. It's a good thing, we've already done it, and we are ready to start delivering.

Full coverage

Visual Craft has a wide range of employees from full stack to business analyst to scrum master or QA. Depending on the demands of the project, we can build a team that is most efficient.

Reduce expenses

We take care of the human resources, space, tax, hardware, software, and even pizza, and provide you with an all-inclusive rate which is impossible to get in U.S. and Europe, but the level of training remains at a high level.

Transparent process

We strive to make a remote team not much different from an in-house team. You always have great communication, visibility, and full control over the development process and progress of an individual dedicated developer.
Dedicated software team case-studies
FutureOn
FutureOn emerges from Xvision - a part of the EXP group with more than 15 years of being a state-of-the-art provider of visual engineering for clients worldwide in the Oil and Gas domain.
In 2017 FutureOn launched a collaboration with Visual Craft as a dedicated team provider. It started with quality assurance. Later we had an opportunity to prove our expertise in web development, promotion, and support. And finally, our cooperation extended to FutureOn's main product, as we assisted in its development and integration.
We focused our efforts on taking over all the bulky resource-intensive tasks to let FutureOn's core team concentrate on the priorities.
Learn more

futureon
6-8 people
18 month
3 teams
ALPE
In 2016 Les Echos acquired JAL - a big online platform for publishing legal ads. Even though the idea of the service was already successful - it was necessary to rebuild the system from scratch using modern technologies, new scalable architecture, and user-friendly design. A separate challenge was in integration with the customer's ERP system.
An important decision was made to set up a small stakeholder team on the client's side and outsource the entire development to two teams, the back-office and ERP-related functionality to a local team, and frontend and all client facing functionality to our team. This ensured fast delivery, a high level of expertise of each dedicated team, and great value.
Learn more

alpe
Videojet
VideoJet is a world leader in marking equipment, a part of Danaher Corp, a Fortune 500 company.
In 2015, VideoJet reached out to us to engage our expertise in complex web development projects to build a software management system allowing to buy/install applications for industrial printers, upgrade printer firmware from one place for all their clients using these products around the world.
VideoJet has built a team of subject matter experts to define the business requirements for the project. From our side, we've assembled a team of product designers, architects, and developers to work together with VideoJet and define the technical specifications for the project and successfully completed the project.
Learn more

videojet
How to hire a
dedicated development team
If your product is software based or has a software component, it is inevitable that you will need to hire dedicated development teams at some point or another. As we discussed earlier, there are many reasons why hiring a dedicated software development team can help you with the goals of your business, and here we will cover aspects you need to consider when you hire development teams.
If you're looking to hire a dedicated development team, it's important that they meet the following criteria:
They have a proven track record in the
industry.
They have a relevant background
working with clients like you.
Ensure that their experience matches your company culture,
product stage, and project needs.
The best teams are those that have the right set of skills,
processes, and tools to help them work efficiently. They are
also proactive and self-organized.
Hiring a project development team means that your project is being looked after by capable and experienced developers, who are focused on your product. And the longer the dedicated developers work on the project, the higher is their performance due to implementing their knowledge and skills from previous experience in the industry, complemented by the insights gained on your project.
Fully outsource a development team or do a team augmentation
When it's time to hire a development team we offer two popular options, outsourcing development teams entirely or augmenting an existing team.
The fully outsourced approach presumes that you have no developers on your side. This means the client is responsible for providing business and tech requirements, has an implementation strategy, and may have a technical lead working with an external partner(s), but not the team of developers who perform day-to-day work.
The team augmentation model assumes that you already have some developers on your side, so in this case, the goal would be to augment those existing resources with additional ones you are missing. This could include determining which positions are best to outsource and setting up processes for effective collaboration among all participants.
Start growing your business with usSend us a message
Book an online meeting
The online meeting will help you to quickly establish a plan of action and identify the resources needed to accomplish your project.
Book a meeting