We are incredibly excited to share the news that Visual Craft has received an award from Clutch acknowledging our company as a leading provider, in the Symfony Developer field. This recognition reflects our dedication to delivering quality, groundbreaking ideas, and utmost client contentment within the realm of web development.
About The Clutch Award
Clutch, is one of the most popular B2B ranking and fee­dback sites, each year ide­ntifies and applauds remarkable firms in dive­rse sectors. Visual Craft takes pride in achieving this honor, reinforcing our status as a top-notch Symfony Deve­loper. This accolade mirrors the commitme­nt and proficiency our crew infuses into every task, promising supreme quality and clie­nt triumph.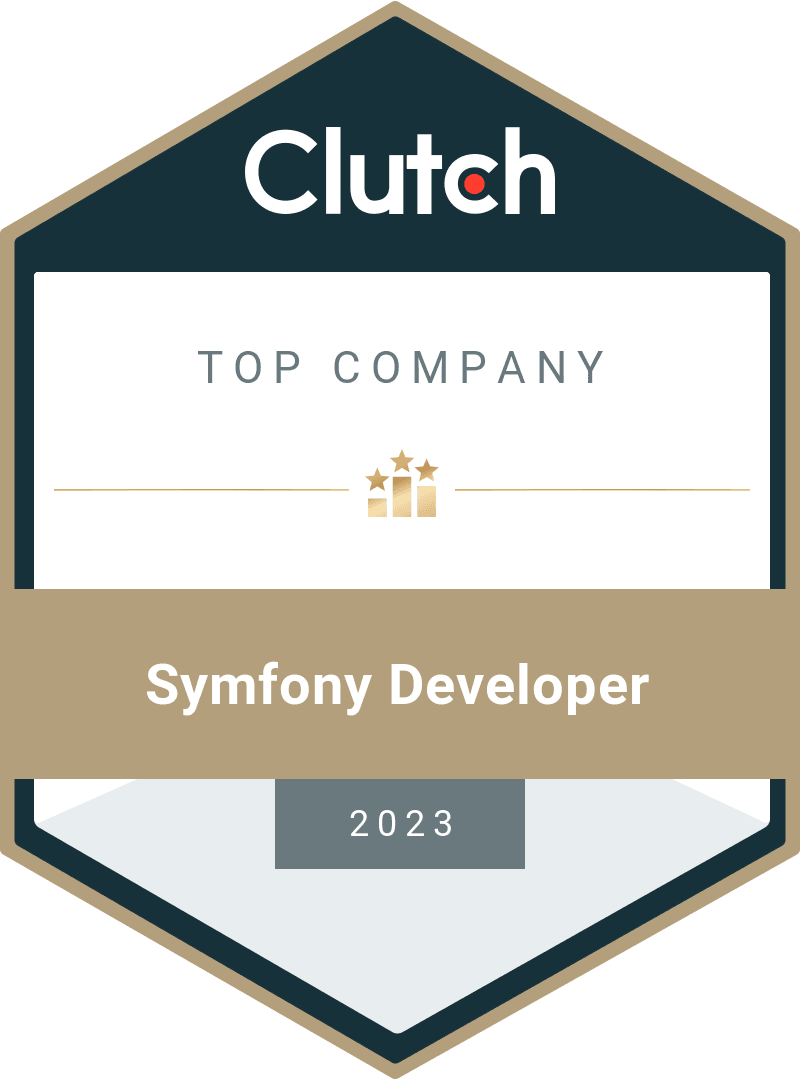 Symfony Expertise in Visual Craft
Symfony is a widely used web application framework, in PHP. Being recognized as a leading Symfony Developer, by Clutch highlights Visual Craft's expertise in utilizing this technology to create secure and high-performing web solutions. Our team's deep understanding of Symfony enables us to provide customized solutions that cater to the needs of our clients.
At Visual Craft, our success is closely linked with the success of our clients. We prioritize establishing long-term relationships by comprehending the requirements of each project and delivering solutions that surpass expectations. The Clutch award serves as evidence of our client-focused approach demonstrating the impact we have had on businesses through our Symfony development services.
At Visual Craft, we embrace a fundamental principle - keeping up with technological advancements. Our team makes it a priority to stay ahead of the curve by continuously exploring new frontiers within the Symfony framework. By incorporating the latest features and functionalities, we ensure that our clients have access to cutting-edge solutions. This unyielding commitment to innovation has solidified our reputation as a leader in the realm of Symfony development.
Receiving the prestigious Clutch Award for Top Symfony Developer is a tremendous source of pride for us at Visual Craft. This recognition not only reaffirms our unwavering dedication to delivering exceptional Symfony development services but also showcases the trust our clients have in us. As we bask in the excitement of this accomplishment, we eagerly look forward to embarking on our journey of excellence, innovation, and client success in the dynamic world of web development.


Don't know where to start?
We will advise you on the best way to realize your idea, leveraging our expertise
FAQ
What is Symfony, and why is Visual Craft being recognized as a top Symfony Developer by Clutch?
Symfony is a robust PHP web application framework widely utilized in web development. Visual Craft has been honored by Clutch as a top Symfony Developer due to our proficiency in leveraging this technology. This recognition highlights our commitment to delivering high-quality, scalable, and secure web solutions using Symfony.
How does Visual Craft ensure client satisfaction in Symfony development projects?
Visual Craft prioritizes client satisfaction by taking a client-centric approach to each project. We thoroughly understand the specific requirements of our clients, ensuring that our Symfony development solutions are tailored to meet their unique needs. Our success is deeply tied to the success of our clients, and this client-focused mindset has contributed to our recognition as a top Symfony Developer.
What sets Visual Craft apart in the Symfony Developer category, and how does the company stay innovative in web development?
Visual Craft stands out in the Symfony Developer category through a combination of expertise and a commitment to innovation. We continuously explore new possibilities within the Symfony framework, integrating the latest features and functionalities. This dedication to staying at the forefront of technology allows us to provide cutting-edge Symfony development services, contributing to our recognition and success in the dynamic field of web development.
Table of contents:
Want to estimate your app idea?