Product

design

Product design is a process that helps you to create new products and services that people love and that are essential in the market. It can be used to create solutions for known problems, test ideas and receive feedback before even building them. The process involves creating prototypes after receiving feedback from potential users, testing it to get their reactions to it, and then making changes if necessary.Product design is an activity that is performed throughout the entire product lifecycle. We help companies and early-stage startups overcome product design challenges. We've accumulated significant experience in building scalable products which meet business goals.
What does the product designing process involve
A product designing process includes many steps to determine the product goals and objectives, identify user needs, learn about pain points and find ways to address them, determine the most compelling features, convert this data into executable specifications, create prototypes and test them, and finally validate hypotheses throughout the development process.
Who is the product design service for
The product design service will be useful to anyone building a new product, or looking to improve an existing one. The service can help you validate the market opportunities, gain insights into your users' needs and behaviors, and increase the adoption of your product.
This service is particularly useful to startups since most early-stage companies lack both the expertise and resource to perform a good quality product design. It's also useful to bigger companies that don't perform product design on daily basis and don't have a dedicated resource.
Human-centered
design
Design thinking is a problem-solving strategy our product design agency likes to use, that enhances the chance of success. This approach focuses on identifying people's needs and determining the best solutions to meet these needs.
Business
Combine business understanding with real user needs.
Focus on developing a user-friendly and intuitive product that meets expectations, goals, and convenience.
People
Technologies
Use cutting-edge technology to deliver efficient and creative solutions.
The role of a digital product designer on your project
A digital product designer should be a member of your team from the project's earliest stages, helping to validate ideas and improve the final outcome. A product designer works with the project stakeholders and users, analyzing user problems, working with other members of the team to find the best ways to solve those problems, and collaborating with technical and design teams to implement solutions.
Product designers have a unique combination of skills and experience that makes them valuable to any team. They are able to take a project from concept through to implementation, working with teams in different disciplines to create something new and useful. Product designers must be adept at both the creative and analytical sides of their work. They need to be able to visualize what a product might look like, then break it down into small pieces and make sure those pieces fit together in a way that works well
Our product and services
design process
Our product and services design process starts with idea validation. Our goal is to define the final vision of the product or service and to understand its purpose and competitive advantage.
A clear vision helps:
determine the right strategy
guide the team to the desired result
determine who the product is for, where it will be used, and how.
During the next stage of product and service design, we help our clients do in-depth research to maximize their chances of success before we begin development. Conducting the analysis gives you an understanding of what products your users need and what the market landscape looks like. Early research helps to minimize excessive expenses and extra work in the future.
Market research is part of product analysis. There are two types of competitors you need to review:
Direct Competitors
Indirect Competitors
03
User research and
analysis
As part of service and product design, conducting user research helps you understand who your users are and what they need - knowledge that is crucial to creating a great user experience. During the research process, we build personas that reflect a certain segment and similarly use the product.
The research can be achieved through one of these techniques:
User and Expert Interviews
Online Surveys
User Observation
For successful project management, the technical team goes through the discovery phase and works to create project details and specifications. This document generally includes:
Flowcharts and user flows.
User stories or other forms of functionality description
High-level application architecture.
Component diagram.
Technological stack.
Timelines and budget.
05
Wireframes
and prototyping
A prototype allows for demonstrating the functionality, how the product looks, and how a user interacts with it. Feedback at this stage helps to avoid significant changes in the future.
During this step, we:
Define key screens and layouts.
Visualize user flows.
Create a clickable prototype to demonstrate the functionality and interfaces.
During the design phase, we work on the final designs and style guide (color scheme, logos, font styles, grids, layouts, and sizes).
This stage finalizes the look and feel of all of the product screens and allows the developers to convert the static designs to live applications. It also provides instructions on animations and transitions for dynamic content.
We develop a Minimum Viable Product (MVP) to validate the idea. This stage is necessary to discard incorrect hypotheses and focus on features that solve customer needs.
As part of the process, we also provide:
A/B testing
Focus group reviews
Metrics analysis built on user feedback
The test and validation phase helps the product design team make sure that the concept works as intended.
We check whether the target users understand the product. Usability testing helps to identify problems and address them.
Benefits of using a digital product design company

Product fit-for-market
When you work with a digital product design company, you can simplify the process of testing prototypes and hypotheses on real users. This will help you reduce the risks of releasing something nobody wants and avoid overspending on improvements.

Enhance user experience
We strive to understand our users and the problems they face. We design our solutions to address their needs and keep their attention by building an emotional connection through better experiences.

Reduce cost
Effective planning and the right strategy help spend the development time efficiently, engage the right resources, and deliver a product that will find its way to the users.

Increase user retention
Our main goal is to develop a product that captivates an audience, maximizes user retention, and makes users` journeys effortless and convenient.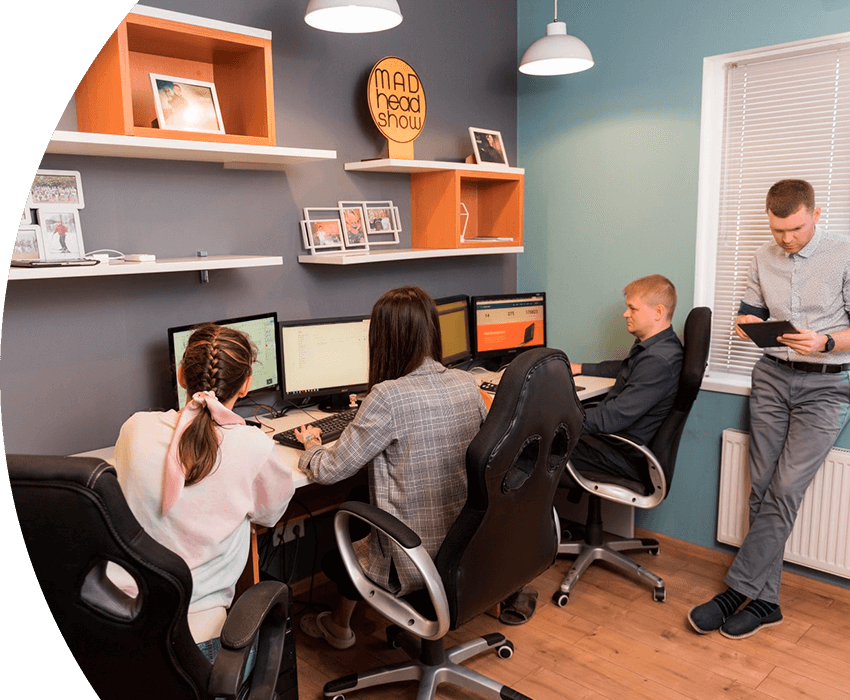 Get started now with a software product designer
We will advise you on the best way to realize your idea, leveraging our expertise.
Start growing your business with usSend us a message
Book an online meeting
The online meeting will help you to quickly establish a plan of action and identify the resources needed to accomplish your project.
Book a meeting