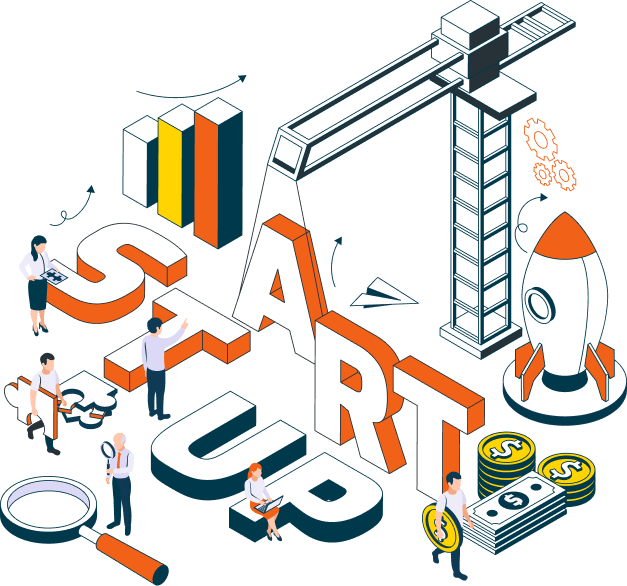 Startup software


development services

As a company with over 17 years of experience in startup software development, we know the pains that startups face all too well. Our extensive work on more than 100 startups, as well as the development of two of our own, has given us a deep understanding of the unique challenges and needs that come with launching a new business.

With this knowledge, we have built an offering that is specifically designed to meet the needs of startups. Our services include product design, a CTO-as-a-service offering, full-cycle engineering, and dedicated teams to help your startup grow rapidly and seamlessly, without sacrificing quality or innovation. Whether you're looking to build a minimum viable product or a robust, fully-featured software platform, we have the expertise and experience to help you succeed.
4 years
Founder Institute Partner
The world`s largest pre-seed accelerator
240+ hours
Startup mentorship
15 years
Software and product exp.
Software Development for Startups: Overcoming Common Product Development Challenges
As a company specializing in software development for startups, we understand the challenges that come with building a product. Starting a business is tough, but navigating the complexities of product development can be even tougher. From lacking understanding of product development to missing technical expertise and planning marketing strategy, we have the experience and expertise to help you overcome these obstacles. We will explore these common challenges and provide our expertise on how we can help your startup overcome them for a successful product development journey.
Lacking the understanding of product development
A systematic approach to product development gives clarity and confidence at every stage.
The common questions:
How to do informative user research?
How to create project requirements?
How to build effective product cycle?
Missing technical expertise
Which technology stack helps you achieve your project goals?
What kind of team will be needed at each stage of the project?
How to set up and control the development process?
A strong technical specialist will help the project take off, and lay a solid foundation for further scaling up.
Understanding how to create cost-effective solution
How much does it cost to develop a product?
Would building an MVP help?
How to save costs?
In-house or outsource?
Reducing time to market with MVP development for startups
Our MVP development for startups service is designed to help you tackle the challenges of reducing time to market. We understand that building an MVP is a smart way to bring your product to market quickly. Our team will help you answer important questions such as why an MVP is essential, how to build an effective MVP, and how to introduce a lean approach to your development process.
When and how to use the lean approach?
How to build an MVP, and why do you need it?
What features are the most important for an MVP?
Planning marketing strategy
How to get first traction?
How to calculate unit economics for startup?
Unsure how to kick off your startup app development project?
When you reach out to us for startup app development, our first step is to assess where you are with your project and determine where we can be most helpful at your current phase. Our specialized startup development offering covers a wide range of services, including early stage support, discovery, product design and prototyping, MVP development, and full-featured app development. We also provide tech consulting to help resolve issues with existing development projects that didn't go as planned. With our expertise, we can help you bring your vision to life and achieve your business goals.
Don't know where to start?
We will advise you on the best way to realize your idea, leveraging our expertise
Working with a Startup Software Development Company
At our startup software development company, we believe that a successful product starts with validating the idea. Instead of jumping straight into coding, we offer a step-by-step process to help startups conduct business analysis, gather technical requirements, and then move onto development. Our goal is to create high-quality products that bring real value to your business. We understand that startups come in all stages, which is why we offer a flexible approach that can accommodate your needs. At our company, we have developed a comprehensive approach to help startups at every stage of their product lifecycle. Here are the roles that are most helpful at every stage and things they can do to help your product:
Idea Stage
At this stage, we work with startups to refine their product idea, ensuring that it`s feasible and has the potential for success.

Business Analyst
Define the product objectives
Define test hypothesis

Technical Team Lead / CTO
Validating technical viability of a product
Validation Stage
Once the product idea is developed, we work with startups to validate the concept, conduct market research, and gather feedback from potential customers.
Documentation Stage
Once the product has been validated, we create detailed product documentation, including wireframes, user stories, and product specifications.

Business Analyst
The business analyst defines the project requirements. We make sure to include points such as:
Visualizing processes through flowcharts
Wireframes and prototypes
User stories

Technical Team Lead / CTO
Architecture
Team composition
Technology stack
Development Stage
With a clear understanding of the product and its requirements, our development team begins to bring the product to life. We work in sprints, providing regular updates and feedback to ensure that the product is being developed according to plan.

Project manager / Scrum master
Sets up project management processes
Leads the project planning activities
Performs project tracking and Reporting

Technical Team Lead / CTO
Assembling and managing the development team
Building execution strategy
Quality control
Post-Launch Stage
After the product is launched, we continue to work with startups, providing ongoing support and updates to ensure that the product continues to meet the needs of its users.

Marketing Manager
Building marketing strategy

Business Analyst
Collect and analyze user feedback
Plan future releases based on market response
Our software development services for a startup:
We believe that every startup is unique and requires a tailored approach. That's why we provide comprehensive software development services for startups ranging from product design to full-cycle engineering, with dedicated teams and CTO-as-a-service options available.
Startup Product Design
Our team of product designers works closely with startups to develop user-friendly and visually appealing products that are tailored to the needs of their target audience.
Learn more
Startup dedicated teams
We provide startups with dedicated development teams that have the expertise and experience to bring their product to life.
Learn more
CTO as a Service
For startups that don't have a technical co-founder or CTO, we provide a CTO as a service, helping to guide the development process and ensure that the product is being developed according to plan.
Learn more
Full-Cycle Engineering
We provide end-to-end development services, from product ideation to post-launch support.
Learn more
Technology Consulting for Startups
Our technology consulting services are designed to help startups navigate the complexities of the digital landscape. Whether you need help with infrastructure, architecture, or technology strategy, we can provide customized solutions that are tailored to the unique needs of your startup.
Startup Web Development
Our team of expert developers provides comprehensive web development services to help startups build various types of platforms and web products, including e-commerce and marketplaces for B2B and B2C audiences. We use the latest technologies and frameworks to deliver high-quality results that meet your specific needs.
Learn more
Mobile App Development for Startups
We specialize in developing mobile apps for startups across various platforms such as iOS, Android, and hybrid apps. Our team of mobile app developers provides end-to-end mobile app development services to bring your idea to life.
Learn more
Custom Software Development for Startups
We provide startups with custom software development services that are tailored to meet their unique needs. Our team of experts uses the latest technologies to develop scalable, secure, and user-friendly software that helps to drive business growth.
Contact us!
We combine business understanding with real user needs to create a product market fit. Get a support in solving product challenges.
Book consultation
Technologies
Languages/technologies
JavaScript
TypeScript
PHP
Python
Go
Ruby
C#
C++
HTML5
CSS3
SASS
LESS
SCSS
REST
GraphQL
Frontend frameworks/libs
Vue.js
Vuex
React
Redux
Svelte
Gatsby
Redux-Saga
Angular
Axios
Lodash
RequireJS
JQuery
D3.js
Bootstrap
Material Design
Backend frameworks/libs
Node.js
Express
Symfony
Doctrine
Twig
EasyAdmin
Ruby on Rails
Laravel
Eloquent
Fastapi
Qt
Zend
Mongoose
Nest
TypeORM
CMS/Ecommerce
WordPress
Magento
WooCommerce
OpenCart
Gutenberg
Beaver Builder
WP Bakery
Visual Composer
Advanced Custom Fields
WPML
Strapi
Plasmic
Databases
MySQL
MongoDB
InfluxDB
Redis
SQLite
Neo4j
Tools
Yarn
npm
Webpack
Gulp
Git
SVN
WebStorm
VSCode
Puppeteer
Postman
Docker
Docker Compose
PhpStorm
PHP CS Fixer
Psalm
Qt Creator
MySQL Workbench
MailCatcher
Sphinx
ESLint
Cypress
Jest
PHPUnit
MJML
Doxygen
Grafana
Studio 3T
Adminer
axe DevTools
Flow
3rd party services
Google Maps
Google Cloud Platform
Mapbox
Cloudflare
Hubspot
Gitlab
Github
Bitbucket
GitlabCI
OpenAI Api
Stripe
Paypal REST
Ghost Inspector
Slipstream API
InVision
Figma
Confluence
Jira
Squarespace
Clients about us
'We contracted Visual Craft to build a software management portal for our new flagship printer. Not only have they done a very workmanlike job in building this complex application, but almost more importantly, they critically evaluated some of our design decisions and offered counterproposals and feedback that resulted in a better product for both us to build on and our customers to use.'
Everyone at Visual Craft is a pleasure to work with. Project managers, programmers and developers are detail and customer oriented, and provide outstanding services. I highly recommend using Visual Craft for all your IT needs.
Visual Craft worked with me to complete my project for Sonant Telecommunications. I am impressed with their communication, ability to understand the task and knowledge. Andrey was excellent to deal with and easy to communicate with. A++++ First Rate - I plan on using them again and again.
Visual Craft did a great job! Excellent language skills and communication, changes and progress to the site are done quickly. They are also great with design, my new site looks great. Highly recommended!
'Visual Craft worked in a powerful and efficient way. They provided me with perfect results in a very short time. All their modifications worked perfectly and they are very proactive in adding functionalities that I didn''t think in my requirements. Visual Craft is a top-notch business partner.'
The best provider we have ever hired. Responsive, respectful, hard working, quality work, fair price, everything is great. Hope to work with them for a long time to come!
'I am so impressed by Andrey and his team at Visual-Craft. Their attention to detail in the planning stages helped me focus by overall business idea, and they''ve been nothing but patient with any changes i''ve wanted to make along the way. I can''t recommend them enough and will certainly be calling on them again to complete phase 2 of my project.'
My name is Fred Sabernick, Engineering Manager at Videojet Technologies. My Visual Craft team has developed a cloud-based software management and delivery system website for our latest industrial printer products. The site experience is customized based on the type of user including customers, distributors, and internal company personnel.
Visual Craft is a pleasure to work with! Their attention to detail, the speed of implementation and problem-solving abilities are impressive. Their dedication to providing support makes them trustworthy and truly valuable technical partners.
The staff at Visual Craft is versatile, nimble, creative, smart and forward thinking, which is everything we needed to develop a unique social platform and websites such as Buzzigo Social and CenterStaging. We strongly recommend them and know that you will be satisfied with their work and how easy they are to work with.
Andrey and the entire Visual Craft team are fantastic to work with. We've worked with them on numerous and sometimes complex projects over the years, and have always been very happy with the results. Excellent communication and attention to detail.
I entrusted the team with the construction of a complex eCommerce site as part of an 18-month project for Les Échos group. The team has invested heavily in understanding customer issues and took care to offer technical solutions to complex subjects. Their availability, attentiveness, and above all the reactivity made them an effective partner in the success of the project.
I have worked with the team for several years at Les Echos (French newspaper, owned by LVMH group), and it was a great experience. Our cooperation through the years has evolved in a great way, leading us to build altogether significant projects. I strongly recommend Visual Craft as a web development team. It's a reliable company with which I would readily work again.
FAQ
Our company is a USA corporation, however, we have a distributed team located in central Europe, Georgia and USA.

Yes, 75% of our clients are from the USA, about 20% are from Europe. The rest are from other parts of the world. We can work with any client as long as we can work in English.

By trusting your project to us, you get a reliable and experienced partner, bringing you a wealth of expertise not only in a wide array of technical matters but also in product design. You get a well-organized team who has been working with great efficiency over the last 15 years and covers a wide area of subjects.

The best way is to contact us with the details of your project so we can assess the project requirements, tech stack, resources, timeframe, and format of cooperation. We would be more than happy to provide our client references on projects similar to yours.

We offer great value for the service and expertise we provide. We use two models: fixed-price or a dedicated team. The fixed price model requires fairly detailed project specifications, but you get an accurate estimate of cost and time. With a dedicated team model, you will know your monthly cost of the team and it's up to you for how long you need the team. The team size and composition can be adjusted based on your current goals.

We will always strive to provide you with at least a high-level estimate even with little information. However, our team has extensive experience in taking our clients through a project discovery phase. As a result of this phase, we provide project specifications and an accurate estimate, feature by feature.

During the discovery phase we run a series of interviews with you to learn about your project, we determine the ultimate goal of the project, all user roles, all user actions, we create flowcharts, user stories, wireframes for all key pages, architecture diagrams and even a clickable prototype. Most importantly, we help you validate your idea and come up with the best technology and the most cost-efficient way to implement your idea.

Discovery phase length and cost depend on the size of the project, for smaller projects and MVPs it takes 2-3 weeks and it costs a fraction of the expense of fixing a project that wasn't planned well.

We offer all services required to turn a great idea into a product that your clients will love. From ideation, discovery, and prototype phase, to app design, development, launch, support, and marketing consultation. This is achieved through the work of experienced BAs, PMs, developers, designers, QAs, and online marketing professionals in our team.

We offer maintenance and support contracts in the volume required for the project, so we are there to help you grow your project, keep it secure, stable, and bug-free.

Good communication is a must-have attribute of any successful project. Every project has a dedicated project manager who will become your main point of contact and organizes the team around him/her. We strive to establish regular weekly calls with the stakeholders, we hold daily internal meetings with the development team and we do a demo and progress review every 2 weeks on most projects so you always know how your project is progressing.

We have a high retention rate of our staff with a high seniority level. Additionally, we use a dedicated QA team that creates and executes test cases covering all of the functionality of the project. We also offer a wide variety of automated tests to make sure your project is stable on various phases of development and deployment.

We support all commonly used forms of payment - wire transfers, ACH, credit\debit card payments.

Use any of the contact forms on the website to get in touch with us and we will find the best way to move forward and review your project.
Start growing your business with usSend us a message
Book an online meeting
The online meeting will help you to quickly establish a plan of action and identify the resources needed to accomplish your project.
Book a meeting