As you may know, creative design, or anything related to the visualization of a product, is an integral part of its development. Indeed, it is responsible for the perception of this product by the end users – both at the stage of making the first impression and after some experience of interaction. At the same time, creating a "working" creative design from scratch is an almost impossible mission. This is where prototyping comes in handy. Actually, we will talk about this important design stage and existing prototyping methods in more detail below.
The Definition
Prototyping is a process in the work of designers when they create a basic version of a user interface based on drawn mockups or wireframes. With the help of prototyping techniques, you can interact with the product and conduct user tests. Usually, the resulting solutions are either completely static or have only basic interactive elements since all the emphasis should be on the visual part and the verbal description of the possible options for user interaction with interfaces.
The design prototyping does not require as much time and other resources as the development of a full-fledged design. Thus, designers get the opportunity to get feedback from end users and stakeholders before the painstaking work on creating an interactive solution begins.
According to the degree of detail, the prototypes are divided into small, medium, and high fidelity. Usually, a designer goes through all these three stages, from basic (sometimes pencil) sketches to solutions, some of the elements in which are interactive. But note that the intermediate stage (creating a medium fidelity solution) is sometimes skipped by designers, and after creating a sketch in grayscale, they begin to develop a low-fidelity prototype.
As for the need for designing and prototyping, it lies in the ability to create a final solution with fewer errors that have to be corrected, which means spending less time and physical expenses on it.
Why Do You Need It?
Now let's define the more precise benefits of industrial design prototyping.
Primary research is not enough
Sometimes it seems to product owners that to create an effective design, they can only focus on marketing research (in particular, the primary one, which involves a live survey of real representatives of the target audience about what they want/do not want to see in it).
However, when it comes to projects with non-trivial functionality or requiring a complete rethinking of the design concept, this is not enough. The fact is that prototyping will allow you to test certain hypotheses in practice, and understand how the target audience will perceive this or that version of the design in reality before it is fully implemented.
It will be easier for you to coordinate your ideas with the client
Even though the stakeholders usually try to define the requirements for the future solution as clearly as possible, including its design, their practical implementation may not be what they expected to get in the end. That's why prototyping can help you speed up the process of creating a solution that your owners will truly love.
You can innovate with less effort
The introduction of innovations is always, to one degree or another, related to product design. At the same time, it can be quite difficult to understand what exactly its target audience will like without having successfully tested analogs at hand. In turn, choosing the right prototype techniques will help you get this valuable information with the least effort.
Best Practices to Check
The prototyping process consists of four essential steps:
definition of initial requirements;
development of the low-fidelity solution;
analysis to get feedback (both from representatives of the target audience and from stakeholders);
optimization and refinement, taking into account the received comments and suggestions (this step involves its gradual transformation into a high-fidelity solution).
Software tools such as Figma, InVision Studio, Adobe XD, Miro, and many more can be useful in these processes, in the end, it all depends on your personal preferences and the level of detail you need to achieve. As for getting feedback and testing, you should look into solutions such as UXtweak, Maze, UserTesting, and UsabilityHub.

Don't know where to start?
We will advise you on the best way to realize your idea, leveraging our expertise
Case Studies
Let's consider some specific cases of prototyping.
The first one was borrowed from our project Orburo, a job posting and job search platform focused on the francophone world.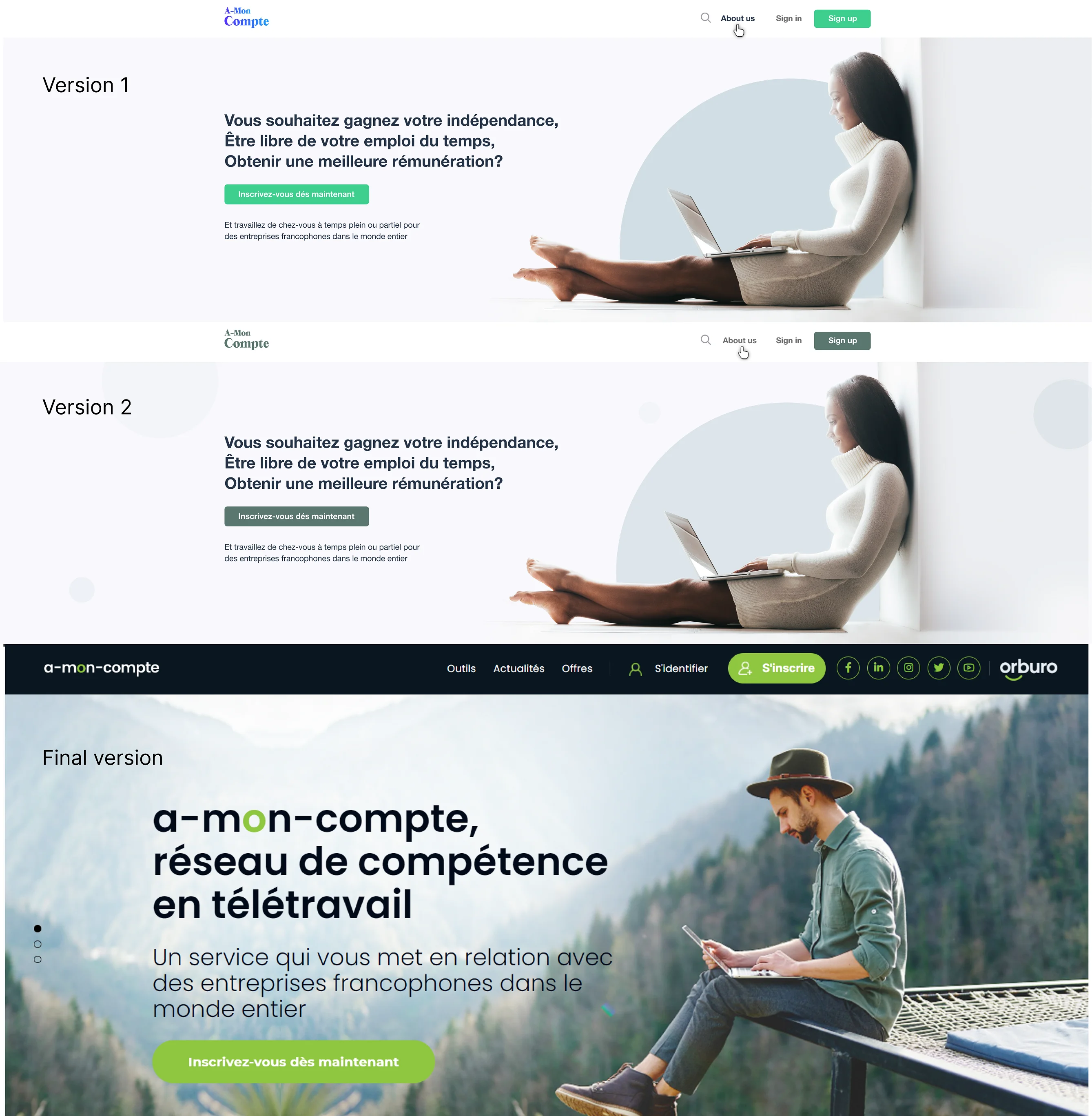 As you can see, from the different color schemes and hero images for a homepage, it gradually turned into several versions that were tested on end users. As a result, this led to the successful selection of one most "approved" version, which was transferred to the implementation.
Here is another great example of a low-fidelity prototype on Dribbble. It is detailed enough to give an idea of what the markup of the future solution will look like, but at the same time, the designer did not have to do much physical work to implement it. This means that possible edits will also not entail large time costs.

And of course, you should consider the option of initially prototyping on paper as one of the most cost-effective prototype methods to provide a basic understanding of what you will need to work on in Figma or any other service design prototyping tool of your choice.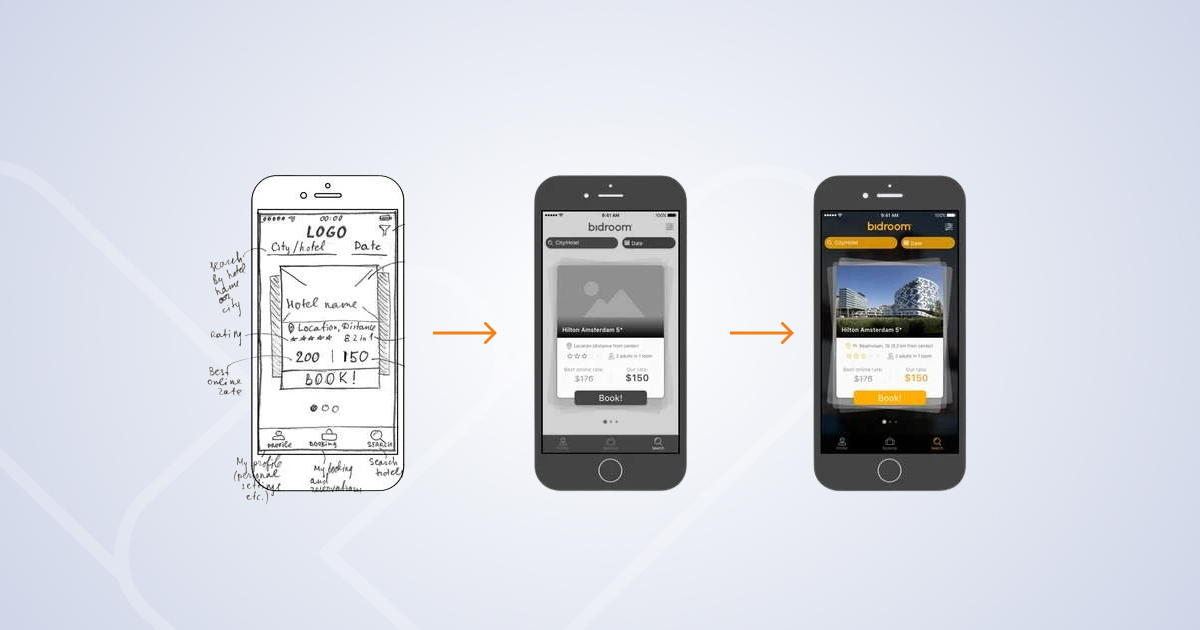 As you can see from the examples above, prototyping processes helped designers achieve maximum compliance of the final solution with the expectations of its target audience and the owners, even before it was released.
Final Thoughts
We hope that we have helped you understand the importance of prototyping and now you will start the design process with this stage in your mind. If you are looking for experienced design and prototyping specialists who will do the best for your project, please, contact us. Our portfolio contains more than a hundred successfully implemented projects, including startups, so we are sure that we will be useful for your business as well.
FAQ
What is prototyping in the context of design?
Prototyping in design refers to the process of creating a basic version of a user interface based on mockups or wireframes. It allows designers to interact with the product and conduct user tests. Prototypes are usually either static or have basic interactive elements, with the focus on visual representation and describing possible user interactions.
Why is prototyping important in the design process?
Prototyping offers several benefits in the design process. Firstly, it goes beyond primary research and allows designers to test hypotheses and understand how the target audience will perceive different design versions before fully implementing them. Secondly, prototyping helps in coordinating ideas with clients, ensuring that the final solution aligns with their expectations. Lastly, it enables designers to innovate with less effort by gathering valuable feedback and insights from testing prototypes.
What are the best practices for prototyping?
The prototyping process typically involves four essential steps: defining initial requirements, developing a low-fidelity solution, gathering feedback from the target audience and stakeholders, and gradually refining the prototype into a high-fidelity solution. Various software tools such as Figma, InVision Studio, Adobe XD, and Miro can aid in the prototyping process, depending on the desired level of detail. Additionally, there are feedback and testing solutions like UXtweak, Maze, UserTesting, and UsabilityHub that can be utilized.
Table of contents:
Want to estimate your app idea?