When it comes to the implementation of a startup, its owners have to deal with a dilemma between outsourcing and staffing a local team. Below we will explain which of these two options is right for you.
Dilemma That Cannot Be Easily Solved
Formally, when choosing a specific model of cooperation with a technical team, you will have to realize one of the most important aspects: whether the technologies used in your startup are the solution to the key problem of your target audience or they are just tools for implementing the functionality that is designed to solve this problem? For example, if you decided to create a software development environment, your project will be the embodiment of the first scenario, and if it is, for instance, a package tracking application, it will be the implementation of scenario number two.
Thus, in the first case, it makes sense for you to lean towards hiring an in-office team, and in the second case, consider outsourcing startup software companies. However, this way of solving the dilemma can be considered very rough, so before making a final choice, we recommend learning more about the advantages and disadvantages of each of these cooperation models.
In-House Team: Pros and Cons
First, we propose you consider the main advantages and disadvantages of an in-house software startup team.

Don't know where to start?
We will advise you on the best way to realize your idea, leveraging our expertise
Benefits
Let's start with the benefits of an in-office startup software team.
Better control. Interaction with a software development startup team that is located with you in the same office implies comprehensive control over the work processes that take place within this team. It makes sense when you have the opportunity to fully dedicate yourself to the project and understand that no one but you can do a better job of this task (that is, you have all the necessary expertise for project management and an understanding of the technologies that you are going to use in your project).
A more reliable collaboration model. You choose the rules for the employment of each of the members of your team, from the organization of job places to the signing of a contract on the non-disclosure of corporate secrets.
In-office interaction with a team. Some business owners find it inconvenient to interact with their team remotely – indeed, even with advanced remote chatting tools, you may still struggle with the possibility of live communication. In turn, with the employees with whom you work in the same office, you will not encounter such a problem.
Risks you may face
Below, we listed the risks you may face when hiring a local team for software development for a startup.
Time-consuming hiring. You should be prepared to spend several months searching for and hiring specialists with the right expertise, which can accordingly delay the launch date.
Costly organization of job places. You will have to equip new job places, as well as be puzzled by the bureaucracy associated with hiring new employees.
Need to manage workflows on your own. If you have no previous experience in software project management, this task, as well as the alignment of the project's technology stack with your business goals, can be a challenge for you.
Outsourcing: Pros and Cons
What are the pros and cons of hiring an outsourcing startup software development team? Let's find out.
Benefits
Here are the main three benefits of an outsourcing team.
Quick start. Usually, the startup outsourcing company spends no more than three weeks on staffing the team. At the same time, you get exactly those specialists whose skills will be most valuable for your project.
An opportunity not to be distracted from the main business tasks. If you are responsible not only for the development of a brand-new software solution but also for some other business tasks, a new project can become an overwhelming burden for you. In turn, this model of cooperation will save you from unnecessary hassle with project management.
Affordable pricing. You can choose a contractor in a country where average market rates for software development are lower than where you do business. Thus, you can significantly reduce the budget of your project without compromising the quality of its implementation.
Here are some more benefits below: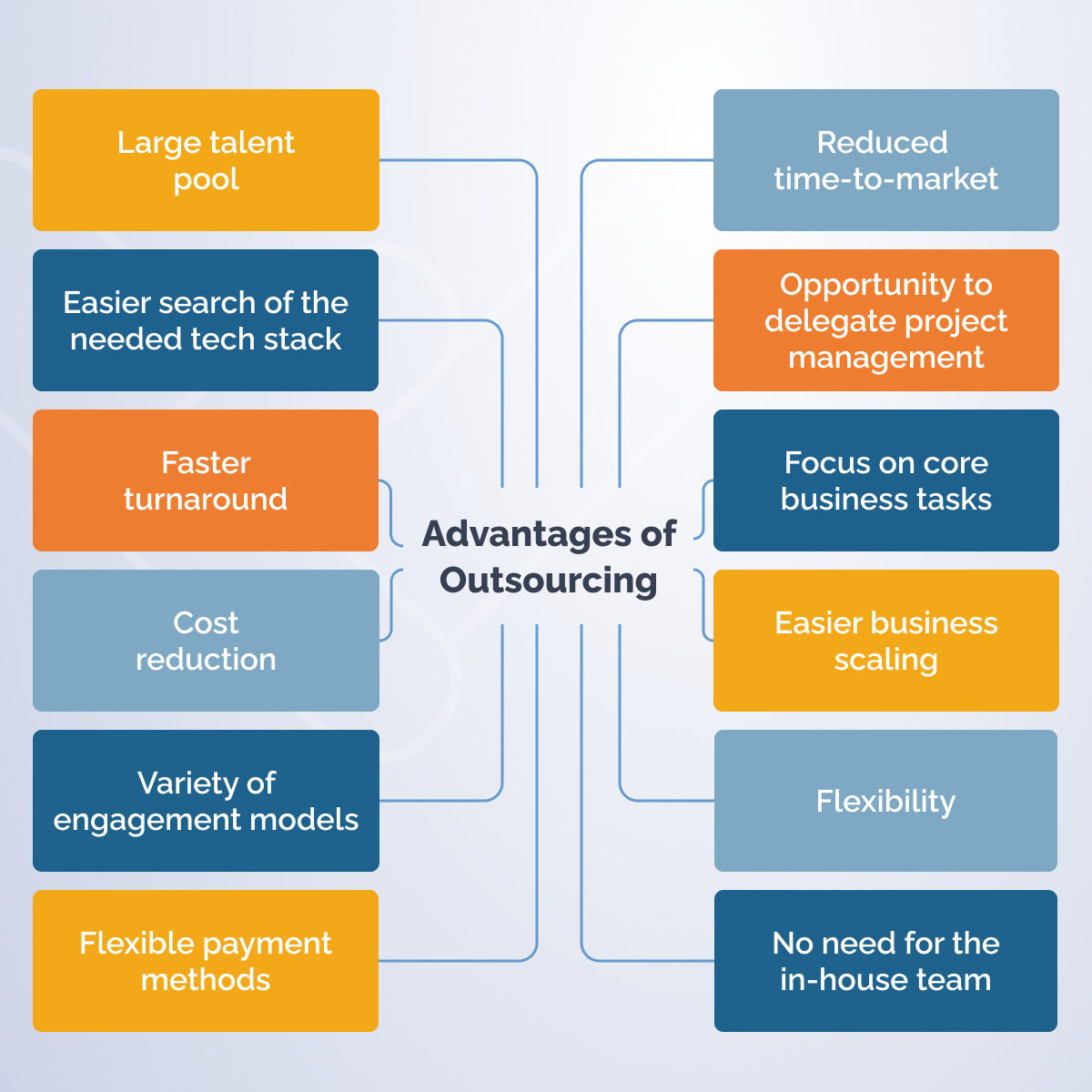 Risks You May Face
Finally, let's list three risks you can face when collaborating with an outsourcing team.
Remote contractor dependency. When you choose a third-party startup software development company, you get a technology partner that you will depend on. In particular, you will not be able to influence their established business processes and approaches to software development that they are used to using in their work.
Too basic partnership agreement. Some outsourcing companies offer their clients too basic partnership agreements without stipulating possible force majeure situations in them. Thus, if such situations arise, they are not always resolved in favor of business owners.
Communication problems. As we noted above, not all project owners are comfortable interacting with the development team at a distance, even if the latter use advanced tools for remote communications. Also, a language barrier or a big difference in time zones can become a significant obstacle to productive cooperation.
How Can Your Project Get the Most Out of These Two Cooperation Models?
If you work with your contractors responsibly and organize cooperation well, you will be more likely to succeed and get more benefits. By doing so, it is possible to increase your chances of success and gain more advantages in the long run. It's essential to evaluate your level of commitment and determine which tasks can be delegated to your contractors: whether you prefer in-house developers or a software development startup company. You have the option to delegate full management of the development process or specific technical tasks that need to be accomplished. The decision depends entirely on your preferences, but with a competent contractor, you can expect greater benefits.
Read more:
Conclusion
If you understand that the outsourcing model of cooperation is closer to you, you will need to find a reliable startup development company that will provide you with transparent conditions for cooperation and select specialists with the expertise you need. In particular, you can contact us. We have successfully implemented over a hundred projects and devoted 240+ hours to consulting startups, so we are confident that we can help you too.
FAQ
What are the benefits of hiring an in-house startup software team?
The benefits of an in-house startup software team include better control over work processes, reliable collaboration, and in-office interaction with the team.
What are the risks associated with hiring a local team for software development for a startup?
The risks associated with hiring a local team for software development for a startup include time-consuming hiring, costly organization of job places, and the need to manage workflows on your own.
What are the benefits of outsourcing a startup software development team?
The benefits of outsourcing a startup software development team include a quick start, an opportunity not to be distracted from the main business tasks, and affordable pricing.
Table of contents:
Want to estimate your app idea?