The real estate industry is a vast area where property needs to be thoroughly managed, which includes a range of tasks such as financial management, tenant management, and maintenance. Considering that competition in the market is growing every year, managers are always trying to find high-tech solutions that will help them cope with the tasks more efficiently, in less time.
And this is where all real estate managers come to the aid of AI, looking to change the usual methods of real estate management radically. So when it comes to AI for property management - where does the technology stand? What benefits do real estate managers get? Let's find out all that and consider real-world examples of the effectiveness of this tool.
The Role of AI in Property Management:
Artificial intelligence is designed to perform various tasks that require human intelligence. If we are talking about the real estate industry, here AI helps automate repetitive tasks and increase work efficiency. Thanks to machine learning algorithms and the ability to analyze data, AI allows real estate managers to perform tasks more productively and quickly while providing a host of new opportunities for the implementation of advanced services.
Smart Tenant Management
Tenant management is one of the main areas of work in real estate. In this case, AI can greatly help managers by offering useful process automation tools. For instance, chatbots and virtual assistants can process all tenant requests around the clock while increasing customer satisfaction at times.
These kinds of smart assistants can answer frequently asked questions, automate lease renewals, and schedule maintenance requests. Thus, the availability of a chatbot in a real estate company enables it to provide a consistently high-quality service, reduce response time, and simplify customer communication.
Artificial Intelligence can also help managers verify tenants. AI can analyze information about a person, including their credit history and any other data available freely. Thanks to these powers, managers can get reliable information about whether a potential tenant is creditworthy in a few moments. In this way, property managers can carry out inspection processes much faster and more efficiently.
Enhanced Security and Risk Management
One of the main tasks in real estate management is security. In this case, AI property management can help improve existing security measures. For example, a video surveillance system that is backed up by artificial intelligence can detect potential threats and quickly respond to them in real time. On top of that, such systems can use facial recognition to provide a high level of access control and effectively monitor potential security breaches.
Another instance - is a security system based on artificial intelligence that can analyze video streams and at the same time detect suspicious activities by sending a warning to the real estate manager, whereby they can take measures that will help to effectively reduce the risks.
AI also allows real estate experts to analyze historical data, which in turn helps to identify patterns that indicate potential problems and threats. For example, thanks to such systems, managers can predict any equipment failures and plan maintenance work in advance, which helps minimize breakdowns and failures for tenants.
Data-Driven Decision Making
Artificial intelligence allows real estate managers to master important and valuable data that further helps to make informed decisions in order to optimize all work processes and get better results. Artificial intelligence algorithms that process huge amounts of data allow real estate workers to receive valuable information such as market trends or the behavior of tenants.
Thanks to the information received, managers can set the price of real estate, schedule its maintenance, and build various investment strategies. Based on this, a property management company that uses artificial intelligence can quickly and efficiently optimize rental prices while maximizing revenue and reducing the number of unnecessary vacancies.
AI can also help managers find profitable investment proposals. Through analysis of market trends and real estate performance data, AI algorithms allow managers to determine which property is potentially profitable for its further use.
Overcoming Challenges and Ethical Considerations
While artificial intelligence provides a wide range of benefits to real estate, there are ethical issues to be aware of. If you decide to use AI in your work, then you need to consider the issue of data privacy and security. As such, property managers are required to ensure that any tenant or property data is handled to ensure maximum security.
Furthermore, any and all AI features must be implemented in an accountable and transparent manner in order to avoid any problems and biases. And to gain the trust of all stakeholders, AI functions such as ongoing monitoring and audibility should be a priority.
Don't know where to start?
We will advise you on the best way to realize your idea, leveraging our expertise
Tretours.ai as a Real AI-Integration Property Management Platform Implemented by Visual Craft
Visual Craft has developed Tretours.ai, an artificial intelligence-based property management platform that allows real estate agents and brokers to automate all routine tasks, from real estate advertising to object tours.
The main task of the Tretours.ai platform is to enable real estate agents to quickly and efficiently respond to requests from potential buyers or tenants while providing customers with all the important information. The platform enables users to quickly and conveniently search for real estate both via keywords and using a map. All real estate that is placed on the platform has enticing descriptions and attractive photos and videos.
The only problem that was identified when working with our platform was that the real estate agents could not independently create captivating descriptions with the necessary frequency and speed. Thus, we decided to create a tool that would automate the creation of posts, making the agent's work easier and much more productive.
So, using the OpenAI API and GPT-3.5 Turbo, we managed to create a tool that quickly and efficiently generates inviting descriptions for real estate.
To ensure optimal results, we have devised an intelligent prompt-generation mechanism tailored specifically to each property, neighborhood, or tour. By automatically extracting essential details from maps and property listings, our system generates a prompt that captures the essence of the property. Of course, users retain full control and can modify the prompt as desired, providing a personalized touch to the process. At the same time, system users have full control over it and can change the prompts as they want.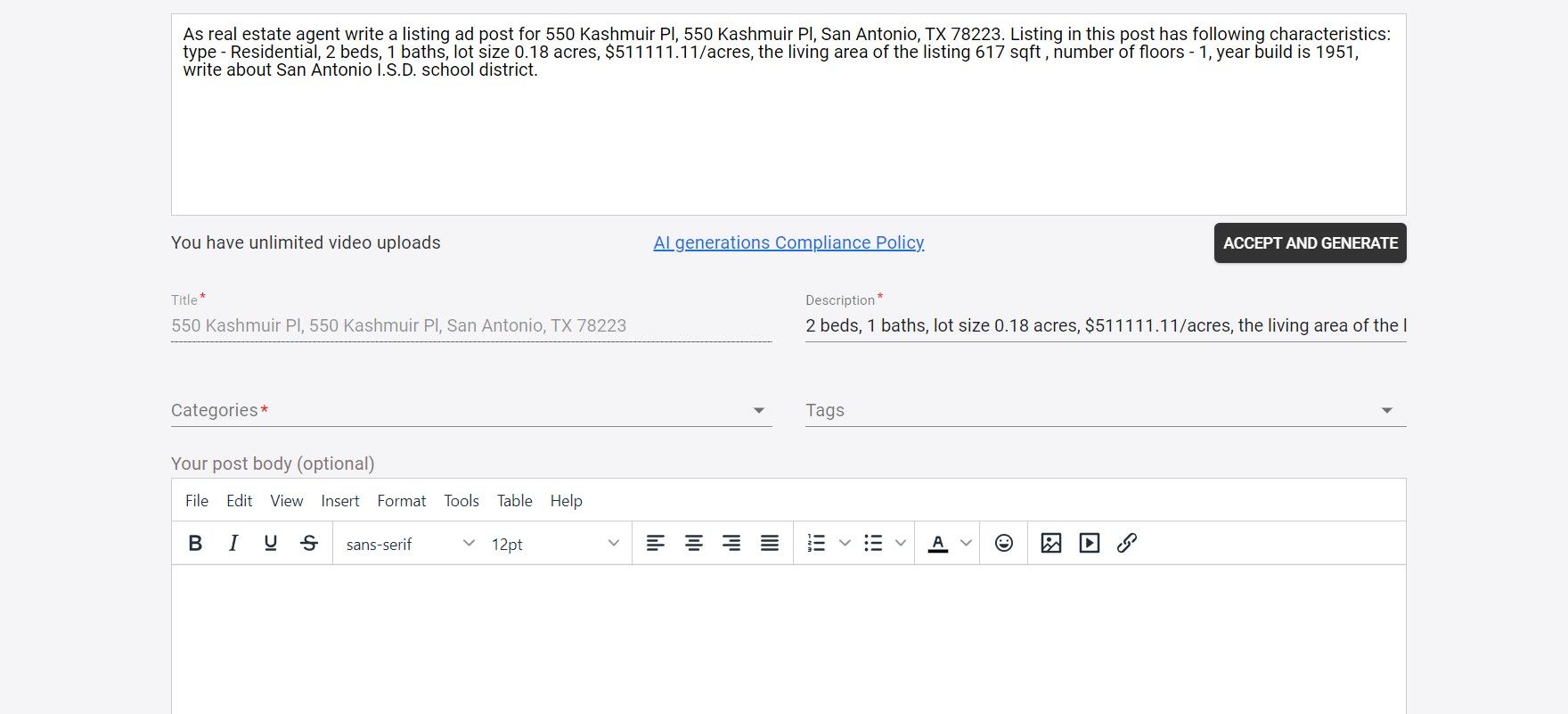 Each post that our system generates is processed and checked for relevance. At the same time, the process of generating posts is fully automated and the real estate manager needs only a few clicks in order to create an attractive description.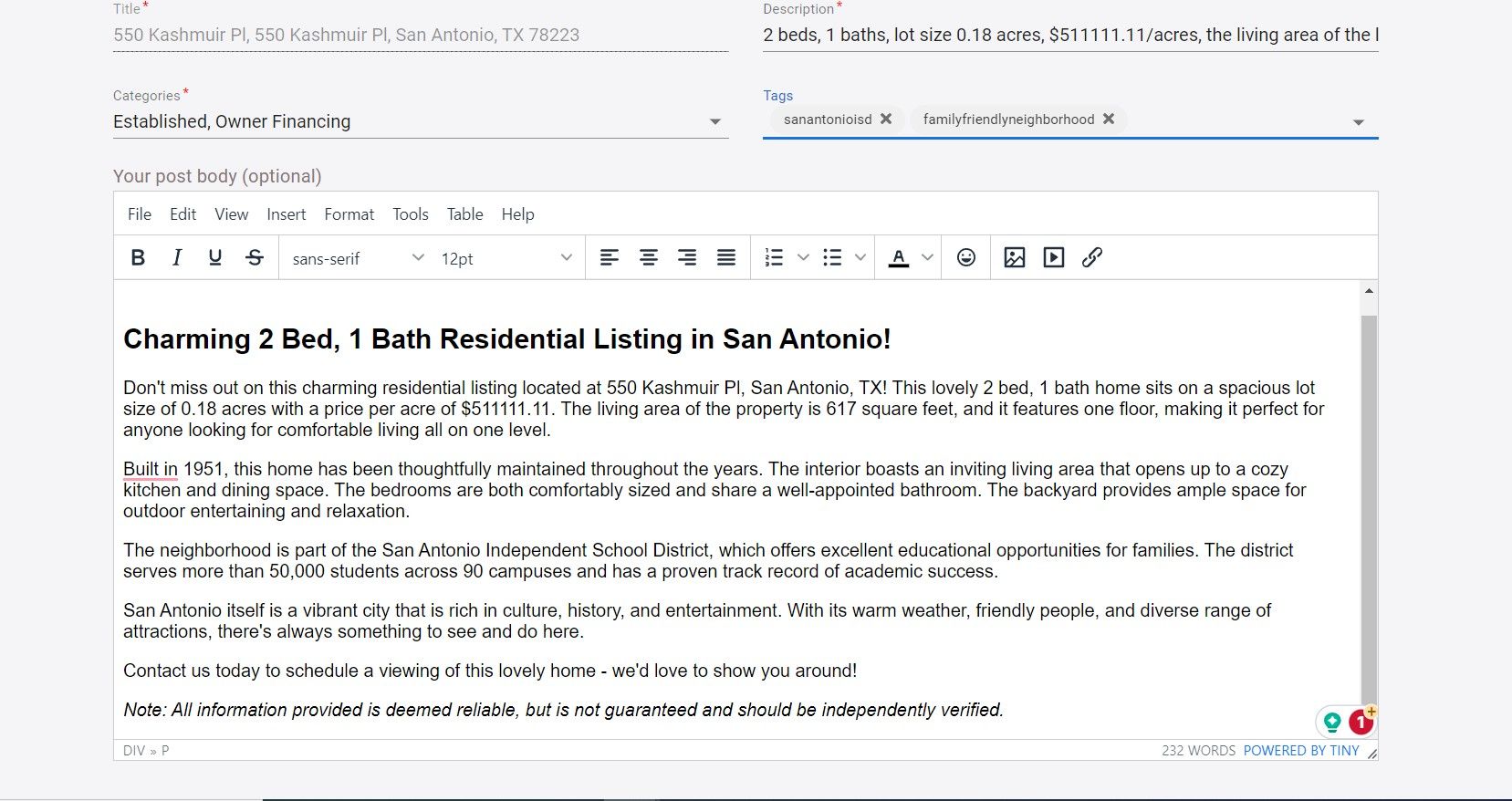 With Tretours.ai, agents can stop jamming tons of time and effort into routine work and focus all their attention on customer interactions and deal closing instead.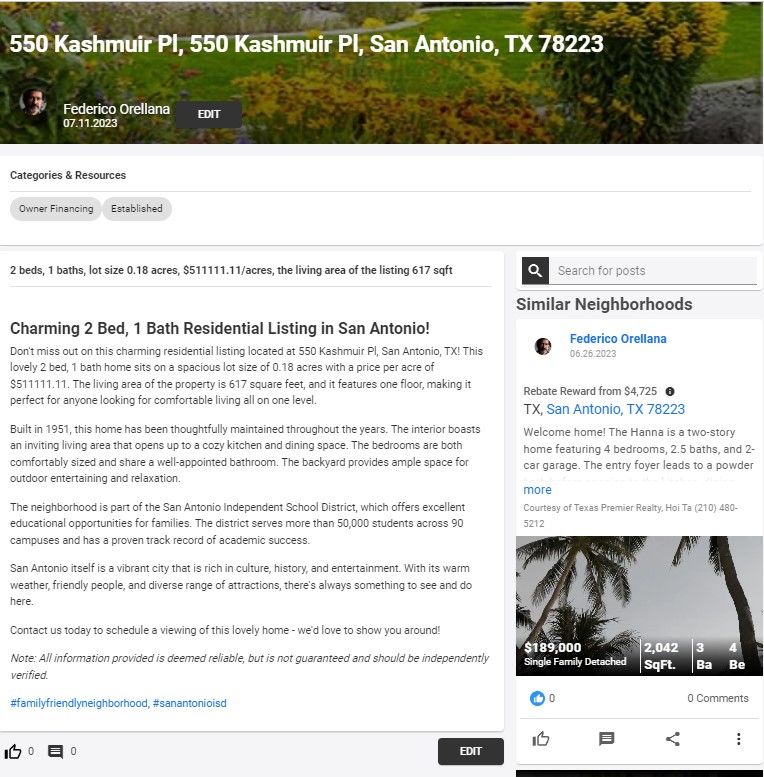 Our team is also developing an assistant based on artificial intelligence in the Tretours.ai system. This assistant will maximize the efficiency of decision-making for both tenants or buyers and managers while facilitating their interaction as much as possible.
Conclusion
AI in real estate allows to radically change the approach to property management while letting managers maximize the efficiency of their routine tasks. AI also opens up opportunities for managers to automate other essential frequent tasks.
At the same time, with the introduction of AI, it is very important for people working with real estate to observe professional ethics and ensure full transparency and accountability of all actions. In this case, the Tretours.ai platform helps real estate experts use all available AI power to provide top-notch services.
Artificial intelligence gives the power to take the real estate industry to a whole new level, providing almost unlimited opportunities to optimize related processes and overall efficiency. This allows managers to optimize decision-making and provide even more premium services to clients.
FAQ
How does AI benefit real estate agents in property management?
AI offers several benefits to real estate agents in property management. Firstly, it automates repetitive tasks, increasing overall work efficiency. Machine learning algorithms and data analysis capabilities enable managers to perform tasks more productively and quickly. AI also provides opportunities for the implementation of advanced services. For example, chatbots and virtual assistants can automate tenant requests, reducing response time and simplifying customer communication. AI can also help verify tenants by analyzing credit history and other available data, enabling faster and more efficient inspection processes. Enhanced security measures and risk management are facilitated through AI-powered video surveillance systems that can detect potential threats and respond in real time. Additionally, AI allows managers to make data-driven decisions by analyzing market trends, tenant behavior, and historical data.
How can AI assist in tenant management for real estate agents?
AI can greatly assist real estate agents in tenant management. Chatbots and virtual assistants can process tenant requests around the clock, providing prompt responses and increasing customer satisfaction. These AI tools can automate lease renewals, answer frequently asked questions, and schedule maintenance requests. By implementing chatbots, real estate companies can enhance service quality, reduce response time, and simplify customer communication. AI can also aid in tenant verification by analyzing information such as credit history, enabling managers to quickly assess the creditworthiness of potential tenants. This expedites inspection processes and improves efficiency.
What considerations should real estate managers keep in mind when implementing AI in their work?
When implementing AI in real estate management, there are important considerations to keep in mind. Data privacy and security should be a priority, ensuring that tenant and property data is handled securely. Ethical considerations and transparency are crucial, and AI features should be implemented in an accountable and unbiased manner. Ongoing monitoring and audibility should be prioritized to build trust with stakeholders. Managers should ensure that AI tools are used responsibly and ethically.
Table of contents:
Want to estimate your app idea?