When your main business direction is not related to the creation of digital solutions, or you are still at the development stage of your first project, hiring technical specialists with years of experience can be a big problem — first of all, in terms of time costs. In particular, this applies to such positions as a CTO, and a Chief Technology Officer.
Fortunately, today companies can turn to CTO as a Service, which allows them to close the relevant vacancy in a matter of days. We will discuss what is a CTO as a Service and its main features below.
What Is CTO as a Service?
So, what is CTO as Service? In nutshell, it is the provision by third-party digital agencies of a specialist who would perform technical and business consulting for a company where there are no full-time employees with the necessary level of expertise. The main target audience of this service is small and medium businesses, as well as start-ups.
What Are the Main Types of CTO Services?
What is a CTO of a company from the point of view of the cooperation format? We can distinguish five main types of CTO as a Service:
Full-time internal: hiring a full-time employee in the office
Full-time offshore: hiring a remote expert available throughout the working day
Part-time offshore, or fractional: hiring a specialist who will spend a fixed number of hours per week/month to execute specific CTO responsibilities
One-time services: hiring a specialist for a one-time completion of specific tasks
Interim services: hiring an expert to solve technical and business problems that have arisen.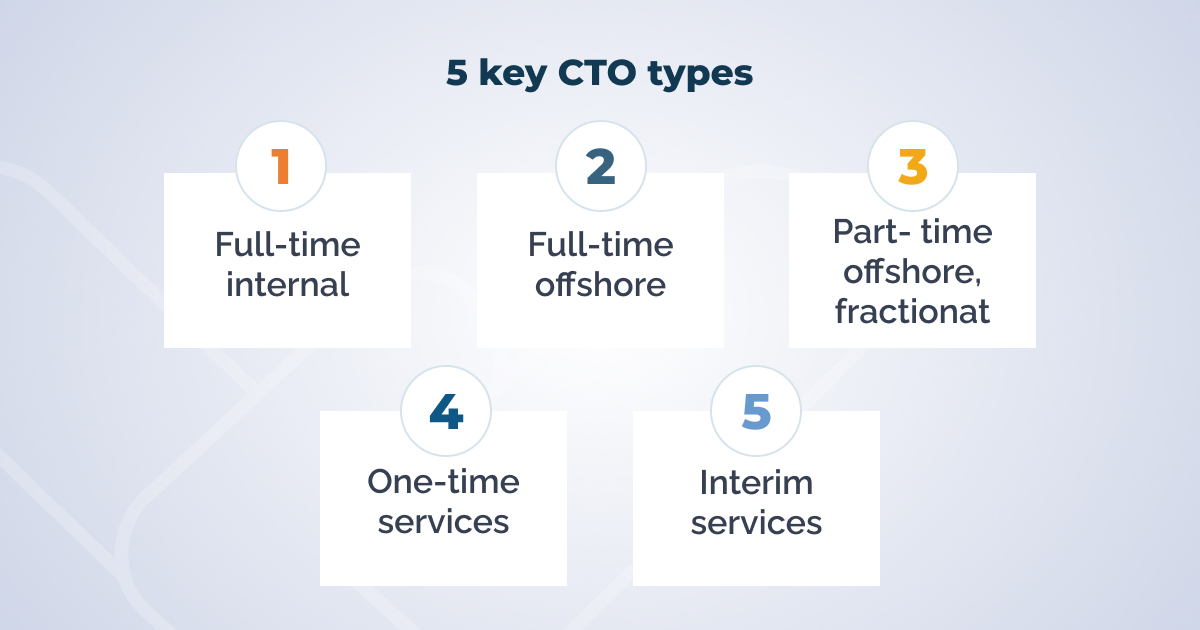 CTO's Roles and Responsibilities on Your Project
Now you know the answer to the question: "What's a CTO as a Service?", so it's time to move forward. So, the next question arises: what are the CTO's responsibilities?
Discovery phase
Even if you have an idea for a digital product and a team ready to implement it, this may not be enough for the success of your project. The fact is that the lack of proper expertise (we are not talking about the trivial skills of software engineers and designers) can result in project inefficiency both in the short and long term, namely, the impossibility of scaling it, excessive overhead costs for development, etc. 
In turn, CTO can help your team with product architecture development, technology stack selection, analysis of technical specifications and business requirements for the project, selection of features for MVP, assessment of possible risks, in-depth analysis of competitors, etc.
Technical solutions
When implementing digital solutions, it is important not only to have their technical concept (that is, an understanding of what the final product should be presented to the end user) but also to understand whether it can achieve specific business goals. Thus, the hired CTO will be responsible for performing tasks such as identifying product features that meet business requirements, choosing a cost-effective technology stack (or analyzing an existing stack for efficiency), solving global technical problems that are not able to cope with regular specialists, determining the direction for product scaling, assistance in integrating the product with third-party solutions, optimizing the architecture of an existing solution, etc.
Project planning
A third-party CTO can benefit your business when it comes to making it more profitable. For example, the answer to the question: "What is a CTO in business?" may cover such tasks as streamlining your development processes, identifying the top-priority features for product implementation, building a scalable architecture, creating a project roadmap, and helping you with the timing and calculation of other resources to complete the project.
Scaling
At this stage of the development of your project, CTO will take responsibility for creating scalable architectural and technical solutions, optimizing costs associated with project growth, assessing risks, choosing the best approach to scaling, analyzing technologies available for scaling (cloud services, hosting, etc.), as well as the choice of a global development strategy, taking into account business goals and technological aspects needed to be implemented.
Presentation
Another important task for which the CTO is responsible is effective interaction with stakeholders: investors, business owners, partners, etc. In particular, these Chief Technology Officer responsibilities include the creation of technical documentation, drawing up a business plan indicating the business value of your product, presentation of the expertise of your in-office team, as well as taking part in direct communication with stakeholders.
Hiring
If you don't have the proper experience to hire an in-office team, the Chief Technology Officer can handle the issue for you. For example, you can delegate tasks such as creating eligibility criteria for hiring technicians, evaluating applicant skills, conducting technical interviews, assessing candidates' teamwork skills, and fostering team spirit to this specialist.
Audit
Finally, answering the question of what's CTO, you can come to the realization that this specialist can take on such tasks as evaluating the quality of the code, checking the productivity of the team, general audit of the project, monitoring the delivery process, as well as compiling a list of recommendations for optimizing the existing solution. 

Don't know where to start?
We will advise you on the best way to realize your idea, leveraging our expertise
Read more:
Do I Need a CTO as a Service?
Let's summarize all the information about the Chief Technology Officer role and figure out if you really need this type of service.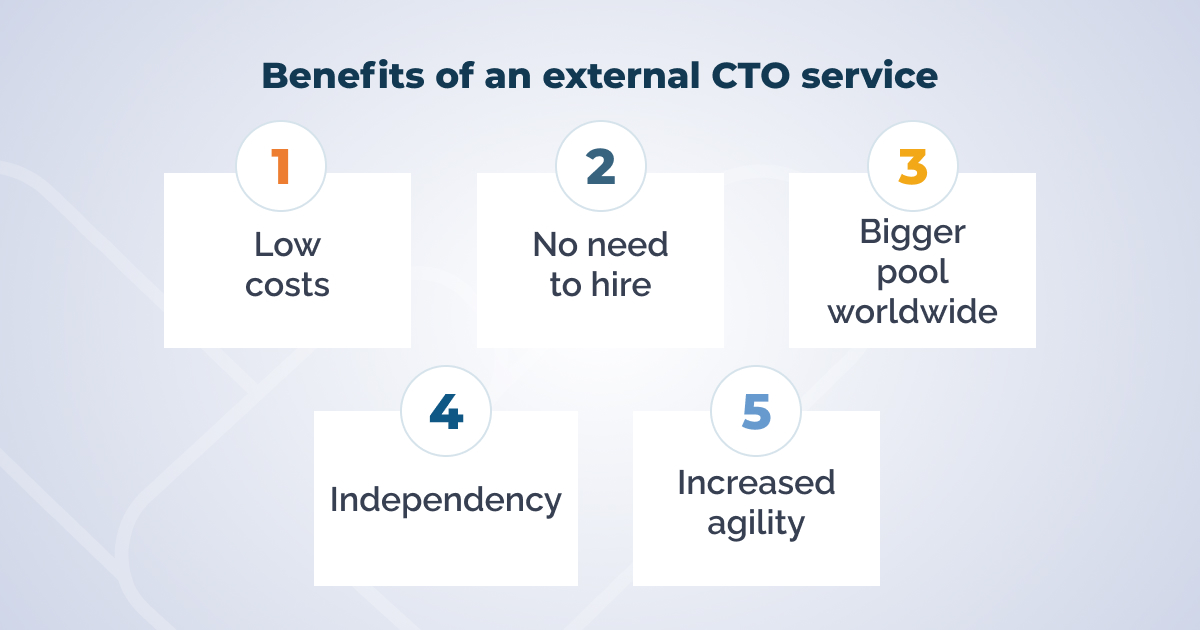 So, you need a CTO as a Service if:
your business is in its infancy and you urgently need an expert who will take responsibility for coordinating the technical aspects of your company;
your full-time employees do not have enough expertise to manage the development of digital solutions;
you are not sure about choosing specific technologies to stimulate the growth of your business;
you need an audit of your digital solution;
you have a minimum viable product, but you do not know how to present it to investors and/or ensure long-term competitiveness in the market;
you want to optimize and/or update your IT infrastructure;
you need a temporary expert since no one in your company performs the CTO role;
your main business is not developing digital products, but now there is a need to create them;
you do not have enough resources to hire a full-time specialist;
you need peer review.
Final Thoughts
Above, we helped you answer the question of how to define CTO as a service, as well as understand the main CTO roles and the tasks that fall within its responsibility. If you are looking for a reliable digital service company that can provide you with their experts to carry out these duties, please, contact us.
FAQ
What is CTO as a service?
Chief Technology Officer-as-a-Service (CTO-as-a-Service) enables small and medium-sized enterprises to self-assess their digital readiness and needs at any time, access market-proven and cost-effective digital solutions, engage digital consultants for in-depth advisory, and engage a CTO for project management.
What is CTO as a service for startups?
CTO as a service refers to the business advisory and technical implementation services provided by a Chief Technology Officer for startups. A CTO is an executive who meets a startup's technical needs and also coordinates its research and development.
What are the duties and responsibilities of a chief technical officer?
A chief technology officer (CTO) oversees the development and dissemination of technology for external customers, vendors and other clients. A CTO may also deal with internal IT operations if a company is small and doesn't have a chief information officer.
Table of contents:
Want to estimate your app idea?