Usually, companies that hire remote specialists to work on a one-time project vacillate between two formats of cooperation: freelancers and dedicated teams. Below we will discuss the difference between these hiring models, and also tell you when it is better to choose the first of them, and when – to hire a dedicated developer.
Who Is a Dedicated Developer?
The main idea of a dedicated team is that the company hires remote professionals who will be able to complete the project without any need for training and other time-consuming measures. This also means that this team will work on the client's project only, just like the in-house team. Dedicated teams are usually full-time, but a part-time collaboration format is also possible. 
Who Is a Freelancer?
Freelance developers are not officially employed by any company. Thanks to this, they can work on any number of projects in the same time frame. The cost to hire a freelance developer is usually lower than in the case of dedicated teams, as they independently manage the processes for completing the tasks set by clients.

Don't know where to start?
We will advise you on the best way to realize your idea, leveraging our expertise
Customer Collaboration with Freelancers and Dedicated Developer
Do you have any doubts about what option to prefer: to hire dedicated developers or start looking for a freelancer? Let's find out what are the key differences between working with both of them.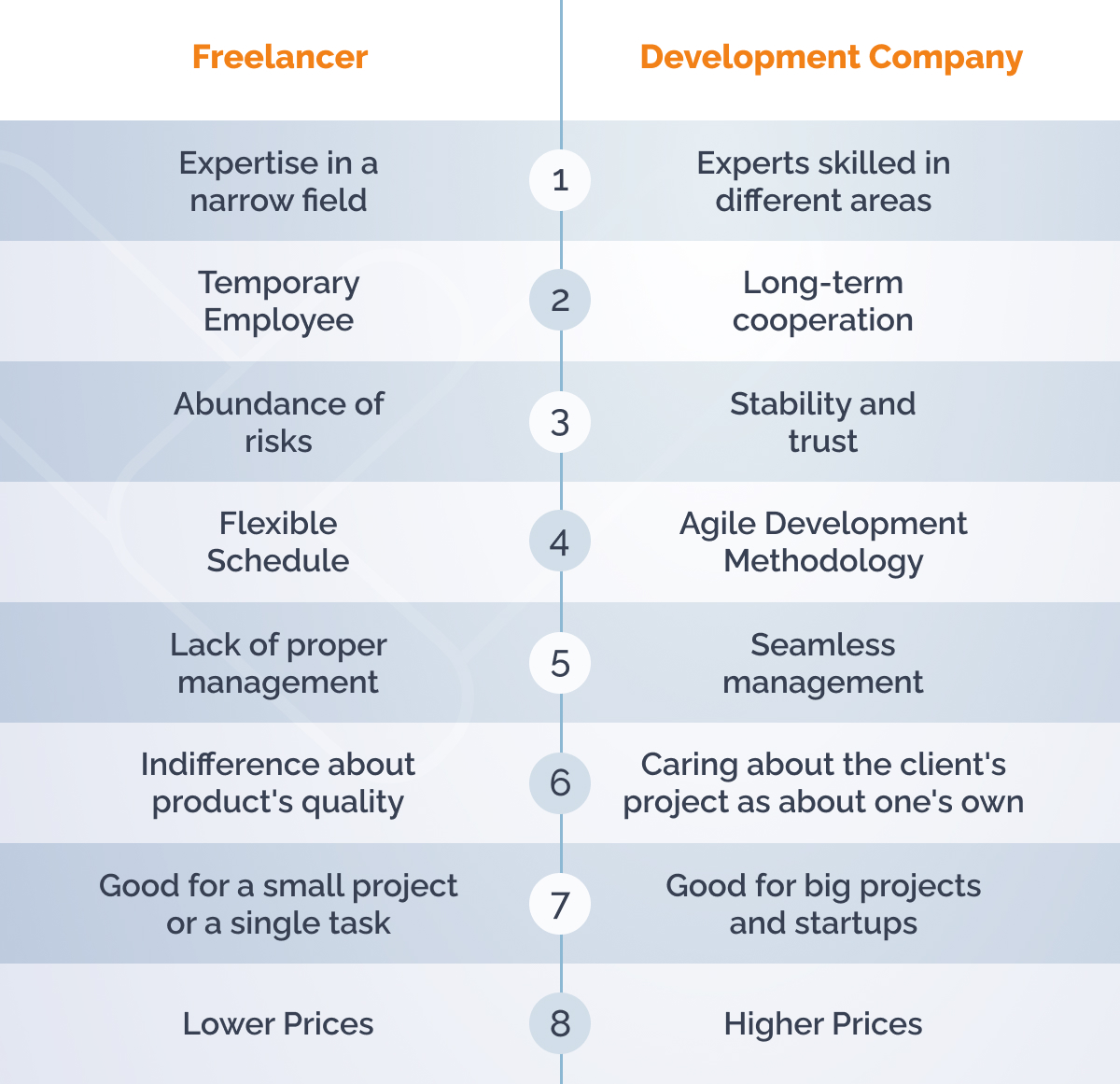 Access to the talent pool
Typically, business owners that are looking for freelance developers for hire to work on their projects, need narrow-focused experts. Indeed, companies that provide such outsourcing services have proven specialists in their pool who have confirmed their experience by participating in numerous projects. 
As for freelancers, they are usually more versatile and perform a wider range of tasks. At the same time, they may not have the necessary niche knowledge.
Type of services they provide
When you hire a dedicated developer, you usually get end-to-end services ranging from gathering technical requirements for a project to its deployment and further technical support and updates. Moreover, all these services are not only discussed in words but also approved in the contract, eliminating all possible risks for a product owner. 
If we are talking about freelance developers, it is better to collaborate with them to complete specific tasks, not relying on the fact that they will work on your project for many years, regularly optimizing and improving it. In addition, you should keep in mind that to cooperate with freelancers, you must understand at least the basics of software development, since only you will be responsible for compiling a list of technical specifications for a future software product and checking the quality of the completed work.
Workflow management 
While it is common for business owners to take on project management responsibility when collaborating with dedicated developers, this is not the only viable option for this format of work. In the absence of free time or insufficient expertise, they can delegate this task to internal team managers without sacrificing the quality of the final project. 
But when you hire freelance developers, you will have to deal with them much more, because you will not be able to attract a manager to the project from the contractor's side. This requires you to have some technical knowledge so that before the project is released and you have to pay a huge amount of money to work on it. you will understand if everything works correctly and if all the processes are performed efficiently.
Feedback
A dedicated developer has specific obligations to product owners that include regular reporting and feedback. This makes the process of their interaction as transparent as possible, even though these two parties work with each other remotely.
With freelancers, this aspect may be under-expressed due to the fact that your contractor may not have any formal requirements to regularly call and report on the work done. Thus, complex and large-scale projects may lose quality when choosing such a cooperation model.
Work quality assurance
Very often, dedicated teams have specialists in the company they work for who check the quality of the tasks performed and, in case of incompliance, return these tasks for rework. Thus, the final product will have all characteristics that are necessary to ensure end-user satisfaction and market competitiveness.
In the case of a freelancer app developer, business owners often have to outsource these checks to third-party experts to make sure everything in their products looks and works as it should.
Pricing
Although a dedicated team implies the participation of some specialists in it, the results of which you cannot see (for example, managers, HR specialists, etc.), the cost of its services may be higher than in the case of cooperation with a freelance application developer.
Risks
Dedicated developers always strive to minimize possible business risks for their clients, as they appreciate the reputation of the company that provides their services for outsourcing. 
As for an app developer freelancer, they can disappear at any moment, and you will have to urgently look for a replacement to complete the project.

Read more:
When Is It Better to Hire a Freelancer and When – Dedicated Developers in 2023?
Based on the foregoing, we can conclude that it makes sense to hire developers freelance to perform simple, trivial, and similar tasks. In turn, the main advantage of a dedicated development company is that it can be entrusted with solving more complex problems, as well as process management, deployment, technical advice, etc. And all this will be done with minimal participation of the product owner and with the lowest risks that the product itself will be worse than the expectations placed on it.
Final Thoughts
As you can see, there is no single correct choice in favor of this or that cooperation model – it all depends on the risks that you are ready to cope with, the budget, the urgency, and the size of the project. If you understand that hiring a dedicated team is closer to you, feel free to contact us.
FAQ
Why should you consider hiring dedicated developers instead of freelancers?
Dedicated developers always do proper planning and management for their projects. When a software development firm plans a project, it assigns work to employees on each job and properly schedules each task; freelancers are not good at this. Therefore, sometimes they manage to comply with deadlines and sometimes they delay them.
Why should you hire dedicated developers?
Dedicated developers use official software and enterprise-grade digital tools to build solutions for clients. The advantages of hiring dedicated developers include technical support, competitive pricing, assured availability, specific expertise, etc.
How to choose a development team for your project?
Research and compare different platforms that rate software development companies based on various metrics. Validate skills and experience before you hire a team, and choose a flexible approach to the project so that changes can be accommodated along the way. Discuss your budget upfront, then pay attention to the contract so there are no misunderstandings about payment schedules or what will be done by whom. Ensure smooth communication at all times so problems can be resolved quickly.
Table of contents:
Want to estimate your app idea?